It was another Makan Venture session with
OpenRice
and this time round we dine in Tranquerah in Kota Damansara area nearby Burger Junkyard. The place is still new thus is pretty quit nearby but voices and cheers often heard coming from Tranquerah and that is because they often cater to group and company dining.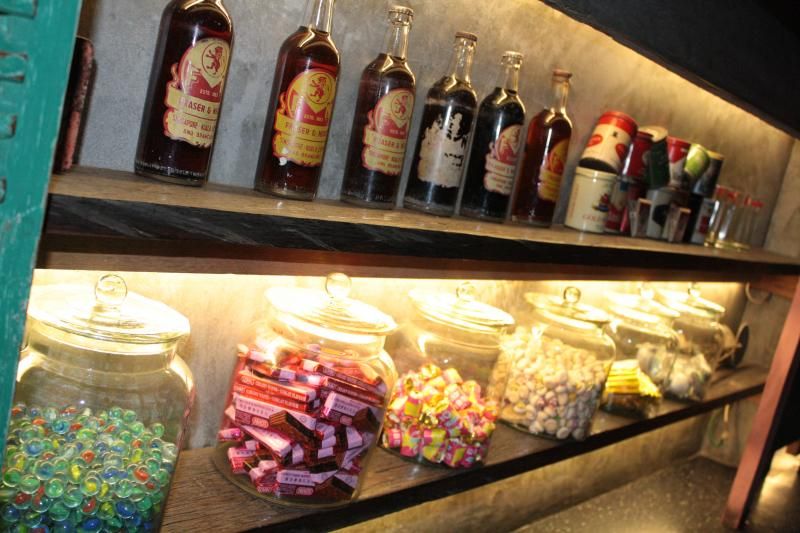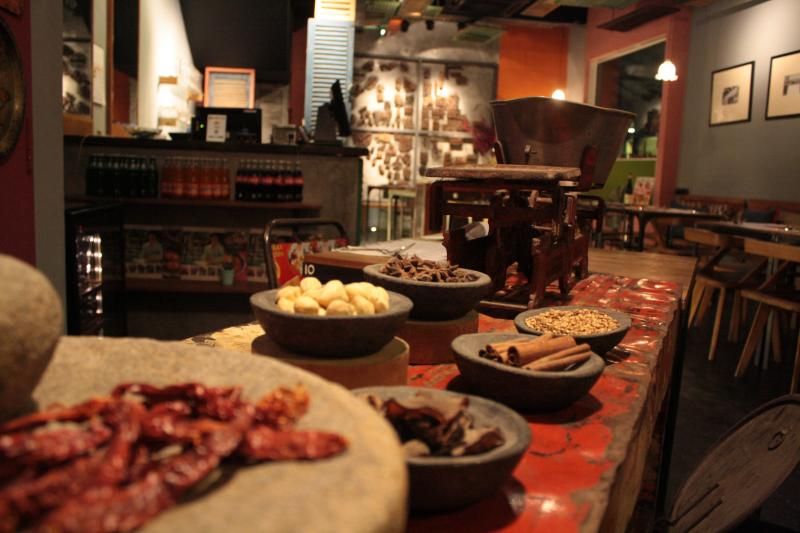 As seen from the photos above, the focus is on bringing back the good old memory we once had and relive the moment right in the center of modern city. The theme for Tranquerah would be heavily on Baba Nyonya cuisine.
Stephanie giving some background information on Tranquerah and did you know that Tranquerah is a very well known street name to our fellow Melaccian, and that "street" has now invade us in Petaling Jaya. It was later followed by a making your own Pie Tee, a famous Nyonya appetizer.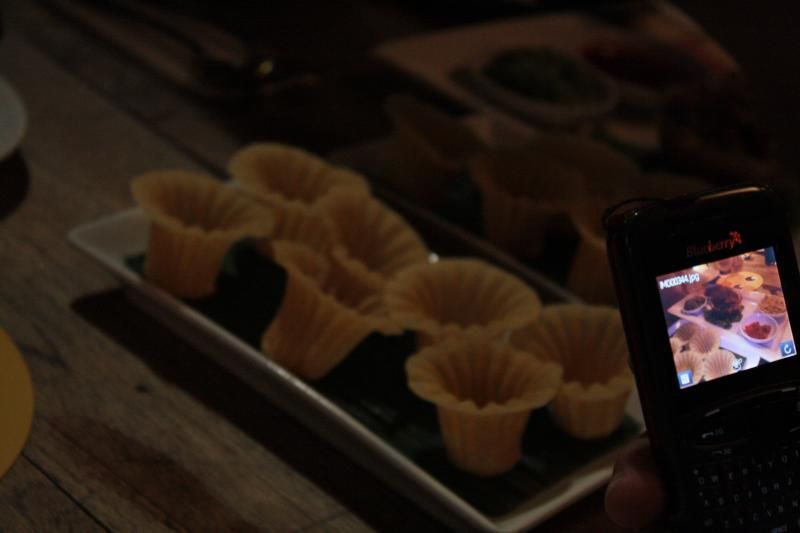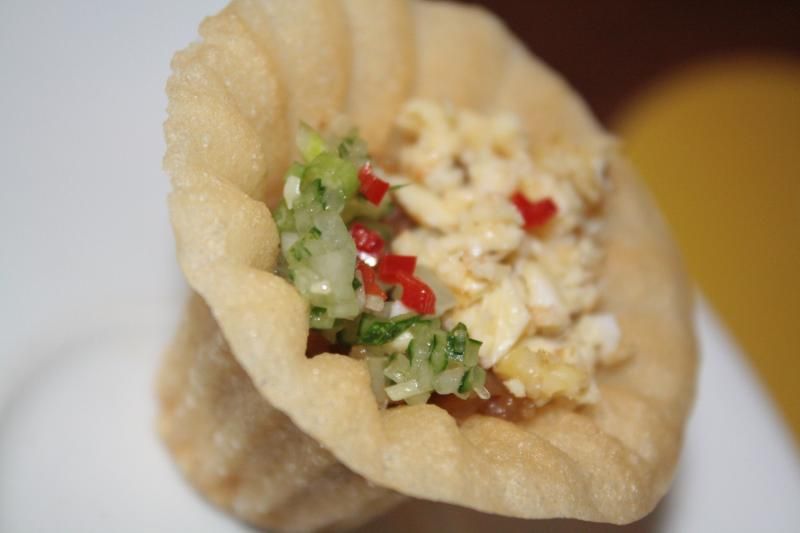 The ingredient used were not only delicious but also fresh with different types of colors. The skin of the Pie Tee was thin and crispy, and the content are mostly sweet and juicy mainly coming from "sengkuang". The Pie Tee did open up my appetite and am craving for more before the main course. We were served 5 dish that night naming Keluak Bendi, Cincaluk Platter, Ayam Pongteh, Ikan Goreng Chili Tenggiri, and lastly Stir-Fry Sweet Potato Leafs with Sambal Keluak
Cincaluk Platter - RM40
The Cincaluk Platter consist of squid, prawn, and chicken marinated with cincaluk (made of fermented small shrimps or krill) and are deep fried until crispy brown. It was a dish that I think if those who couldn't take cincaluk may not like this dish even though it is a pretty safe (fried) food. Personally I find the platter is slightly too salty to my preference but that can be explain as cincaluk itself is heavy in flavor.
Stir-Fried Sweet Potato Leafs witn Sambal Keluak - RM18
One of the specialty dish here at Tranquerah would definitely its dish using Keluak as the ingredient. You can't get such dish elsewhere and Keluak lover should really come forward to try it out. It was however my first time trying out Keluak and I couldn't really taste the Keluak (or maybe I don't know what it taste like). The Stir Fried Sweet Potato is not spicy too according to my preference but the vegetable is very well cooked.
Ayam Ponteh - RM23-33
One of Tranquerah signature dish would be Ayam Ponteh which has a thick aromatic gravy and rich in flavor. The chicken, potato, and mushroom is well cook and the chicken is moist and tender, the way a good chicken should be.
Ikan Goreng Chili Tenggiri - Seasonal Price
The Tenggiri is also one of my favor dish that night. The fish was fried till perfection where the outer layer is crispy and crunch leaving the inner meat succulent. It is good all by itself but the sauces that come with it actually enhance the flavor of the dish to next level.
Keluak Bendi - RM18
Keluak Bendi is yet another dish that is made using Buah Keluak, a popular ingredient famous among the peranakan community. The reason why not many restaurant that uses this is because it required a lot of time and effort just to make the Keluak edible. The steam bendi is topped with specially made keluak sambal which again I didn't feel the presence of spiciness
Location
62A-G, Red Carpet Avenue Encorp Strand,
Jalan PJU 5/22,
Kota Damansara, Petaling Jaya
Operation Hours
Mon - Tue: 11:00 am - 3:00 pm, 5:00 pm - 11:00 pm
Thu - Sun: 11:00 am - 3:00 pm, 5:00 pm - 11:00 pm
Contact
Tel: 03-6142 4106
Email: tranquerah8@gmail.com
Website