Chargrill began in Australia and soon venture into Indonesia and Singapore, and we in Malaysia too had the opportunity to kill the crave of Greek and Mediterranean cuisine here at Malaysia's 1st ever outlet located at Publika.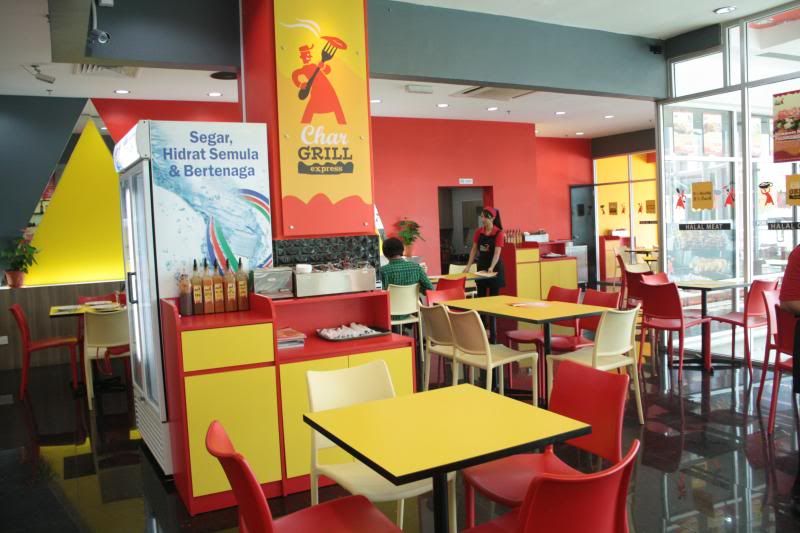 That pretty much explain why the layout of Chargrill Express resemble western cafeteria. Chargrill Express is a Halal restaurant here in Malaysia and its best sellers are Portuguese Style Chicken, Roast Beef and Grilled Chicken Burger.
Beside the familiar surrounding, the sauces available does remind me of Nando's in some way but honestly the sauce here weren't as good as I would have expected it to be. They were too watery during the time I dine there but according to Mark, the store assistant, they would replace the sauce every week. The sauces had only a very mild taste in it and it was to prevent the sauce from damaging the already flavorful dish according to Mark.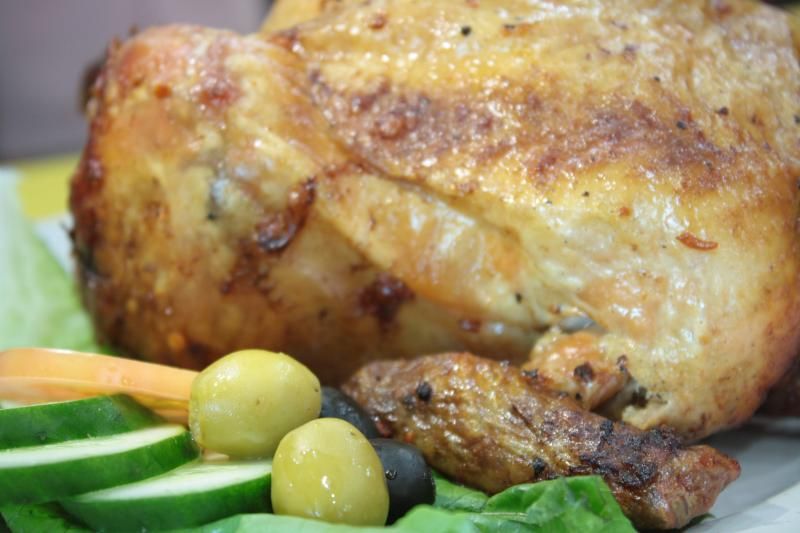 SEASONED WHOLE CHICKEN - RM29.90
The Seasoned Chicken here is very good and the way of preparing it is also very unique too. The chicken is stuffed with rice and seasoned with fresh herbs and spices, leave it for a day and is grilled slowly over the auto rotating grill machine. Judging from the effort required to prepare such meal, the price is pretty cheap and one whole chicken is good enough to serves up to 8 pax. Though it taste almost like the awesome chicken rice out there, this version has strong aromatic taste and had an unusual strong flavor in it. The chicken is somewhat little dry maybe due to the grilling process but it still preserve the deliciously good taste.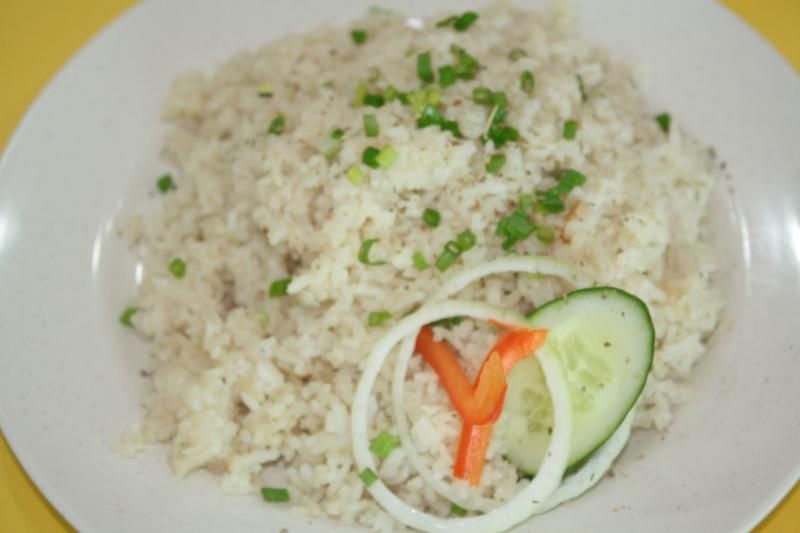 CHICKEN RICE - RM2.50(Side), RM3.50(Regular), RM4.90(Large), RM9.90(Jumbo)
In case you're wondering, the seasoned chicken is indeed stuff with rice but the amount might not be sufficient to serves every pax, that's why you can order the Chicken Rice separately. The fragrant chicken rice is good even own and it does indeed had a stronger flavor compare to those available out there, and beside that there's nothing special.
PORTUGUESE RICE - RM3.20(Side), RM4.90(Regular), RM7.90(Large), RM10.90(Jumbo)
If you're feeling adventurous, you may want to try their Portuguese Rice. Aromatically it is similar to Nasi Briyani without the presence of spices. Taste wise pretty good but again beside that there wasn't much to describe on.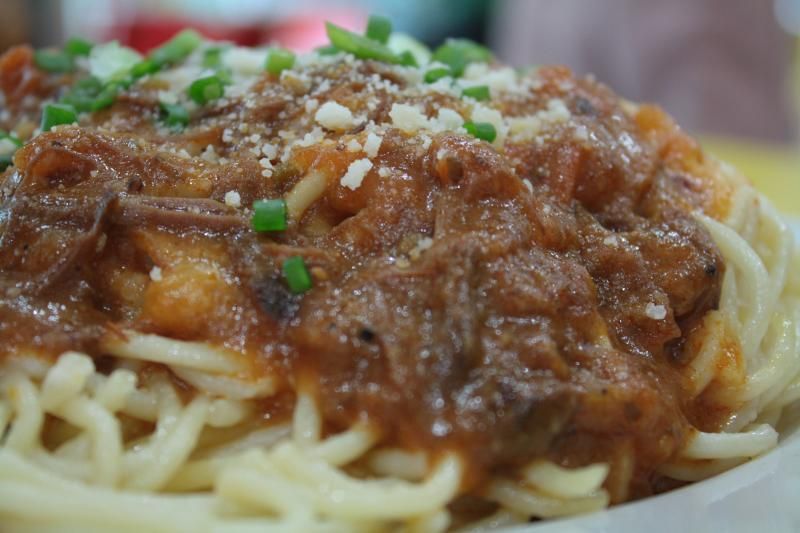 BEEF SPAGHETTI - RM3.20(Side), RM4.90(Regular), RM7.90(Large), RM10.90(Jumbo)
Since the bolognese sauce is mixed with beef, I couldn't taste this this myself but was told that it had a strong beef flavor all over. So if you enjoyed and love that perhaps you would wanna try this?
CHICKEN CREAMY PASTA - RM3.20(Side), RM4.90(Regular), RM7.90(Large), RM10.90(Jumbo)
The Chicken Creamy Pasta is pretty good to me although it could be better. The cream is filled with lots of shredded chicken and it has a thick creamy texture.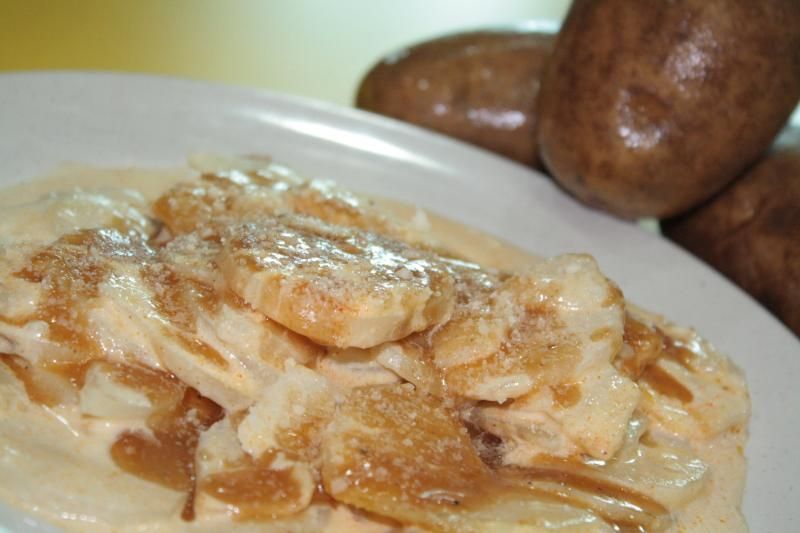 CREAM POTATOES - RM3.20(Side), RM4.90(Regular), RM7.90(Large), RM10.90(Jumbo)
COLESLAW - RM3.90(Side), RM6.90(Regular), RM8.90(Large), RM12.90(Jumbo)TUNA & MAYO PASTA - RM3.90(Side), RM6.90(Regular), RM8.90(Large), RM12.90(Jumbo)
CHICKEN AVOCADO - RM3.90(Side), RM6.90(Regular), RM8.90(Large), RM12.90(Jumbo)
CHEF'S SALAD - RM3.90(Side), RM6.90(Regular), RM8.90(Large), RM12.90(Jumbo)
Cream Potatoes, Coleslaw, Tuna & Mayo Pasta, Chicken Avocado, and Chef's Salad is just some of the many sideline available from the bar / menu. Taste wise were fairly good but not outstanding. You can view their full
menu here
.
PORTUGUESE STYLE WHOLE CHICKEN - RM29.90
The Portuguese style chicken is marinated in Chargrill's Portuguese marinade for a minimum of 24 hours before sending it over to the grill machine. It is VERY spicy but that spicy burn wouldn't last long. It was indeed a good signature dish but I think the meat inside was not thoroughly marinated leaving some portion of the mean flat in taste.
LAMB SHANK - RM24.90
The Lamb Shank is rather tough and hard on the meat whereas the sauce is slightly oily to my preference. Taste wise was pretty normal to me.
GRILLED CHICKEN BURGER - RM7.90 / RM11.90(Combo)
Grilled Chicken Burger is actually grilled marinated chicken breast on a bed of lettuce, tomato, coleslaw & pineapple with Chargrill's popular perinaise sauce. The burger may suffer from critics resulting from which the ongoing stiff competition in the burger industry. Not saying that it wasn't good but with that price, people might tend to compare it to other burger restaurant like
this
or
this
. It does have a taste of the charcoal grill all around the chicken and it has a mild spiciness in it. In my honest opinion, it would be better if there's a stronger flavor in it and option to control the spiciness to it.
CHICKEN WRAP COMBO - RM12.90
Stuff with chicken on a bed of lettuce, tomatoes, onions with Chargrill's perinaise sauce wrapped in pitta bread would be the Chicken Wrap Combo. All I could taste here are the greens and less on the meat, and the wrap is pretty hard to chew on though.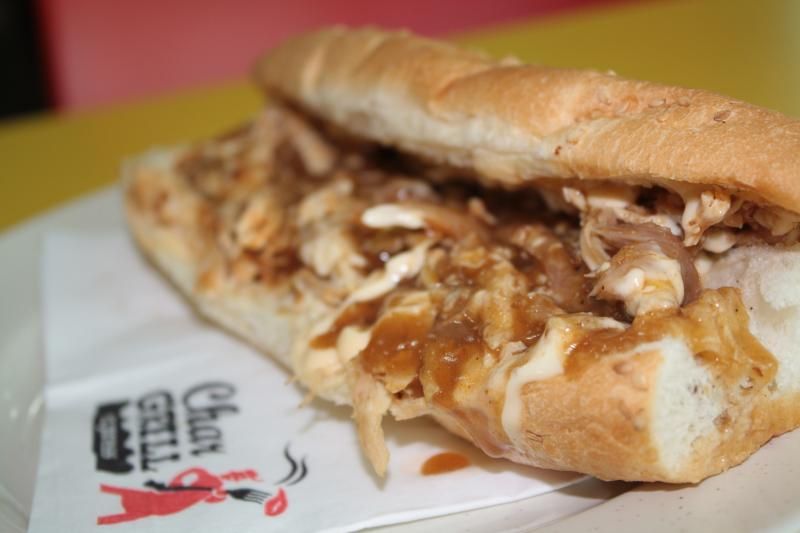 HOT CHICKEN ROLL - RM6.90 / RM9.90(Combo)
Hot Chicken Roll is chicken with seasoning mayo spread stuff into a tall size bread. Bread was pretty hard and the content of this load is very messy and juicy. There's a light taste of BBQ but was soon overwhelm by the taste of mayo.
I think they focus on way too many variety of food and preparation on huge portion of food on the bar, it would definitely be an advantage to scale down the variety, focus and improve on its signature dish to further capture more foodie in Malaysia.
Location
Chargrill Express
A4-UG1-02,
Publika Shopping Centre,
Jalan Dutamas, Mont Kiara,
Kuala Lumpur, 58400
Contact
Phone : 03-6206 4106
Operation Hours
Mon - Sun: 11:00 am - 10:00 pm
Website