It was another night of fun filling date with Foodirector.com and this time round at Smashies around Setapak area. It wasn't difficult to find the place and as a first timer, I manage to locate it in only one go. It is along the main road toward Festival City Mall.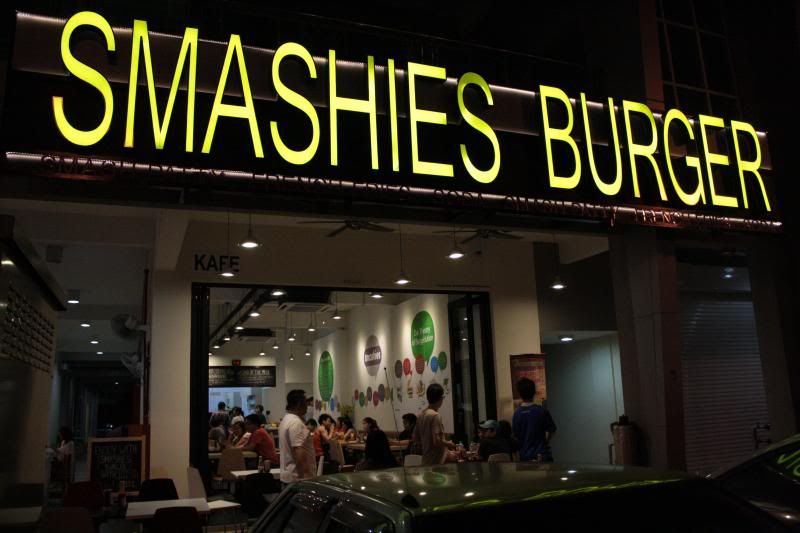 Smashies offered a perfect hangout place with colourful 'artwork' with motivational quote all around the shop and is good enough to accommodate a crowd of 40-50 pax simultaneously.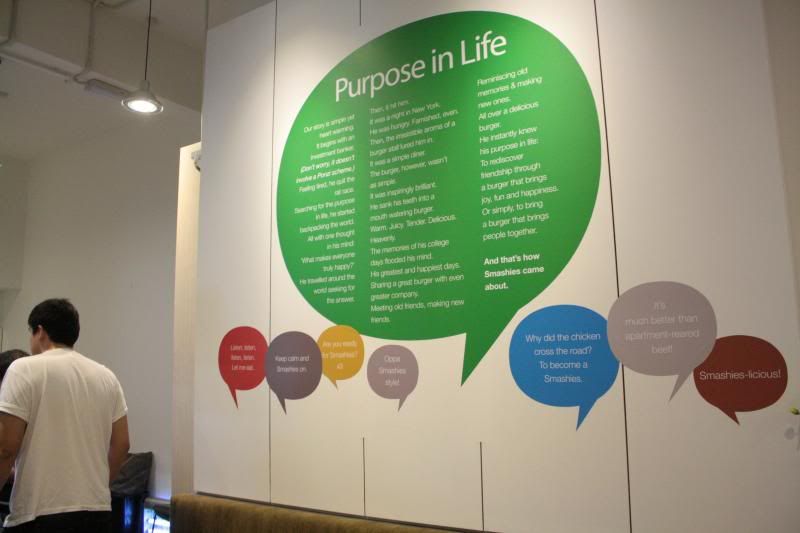 Unlike other burger restaurant, Smashies serves a balance of beef and chicken burger. Likewise, all the burger had pretty unique name and is prepared with lots of ingredient for that awesome flavour of their own.
One of the interesting here is that they serves bottomless soda + fries / onion ring set at only RM6.99. For those who doesn't want the fries / onion ring can still opt for the bottomless soda at RM4.49. I'm pretty impress that they could keep the auto refill station clean and tidy at any given time.
Not forgetting their open kitchen concept is also tidy clean from top to bottom and it sure do open up my appetite.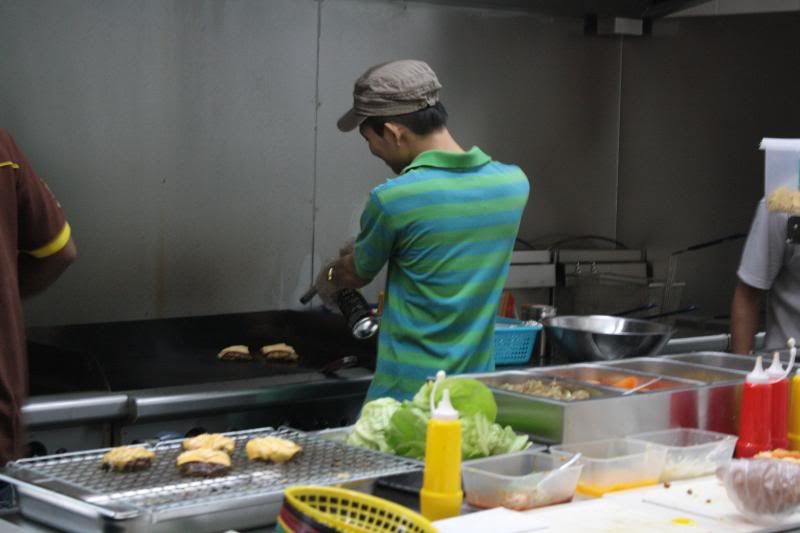 As usual, since I couldn't take beef I could only watch and share the photo of the burger, and maybe some quoted review from others who had manage to tried it.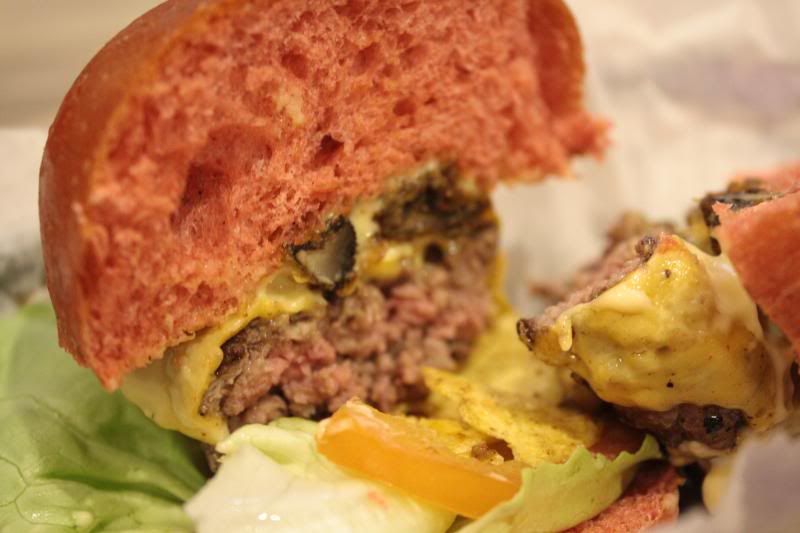 LORD OF THE MESS - RM16.99
The first burger served is named as Lord of the Mess and to me it wasn't as messy as the name is. Though pretty neat, it sure look sinfully delicious. Lord of the mess is made from yellow bun, single beef patty, single slice of cheese, fried portobello, mushroom, fried nachos, and sunny side up. Was told that it was flavourful but was rather dry in the bun.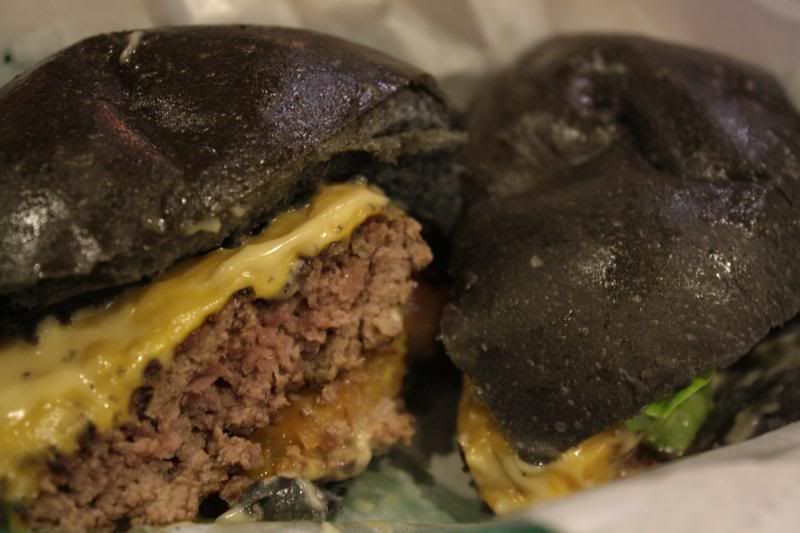 I AM SINGLE - RM10.99
I am single is made of black bun, single beef patty, and single slice of cheese. According to my partner in crime, the patty was slightly overcook, resulting in slight toughness to chew on. Other than that, it was pretty ok only burger.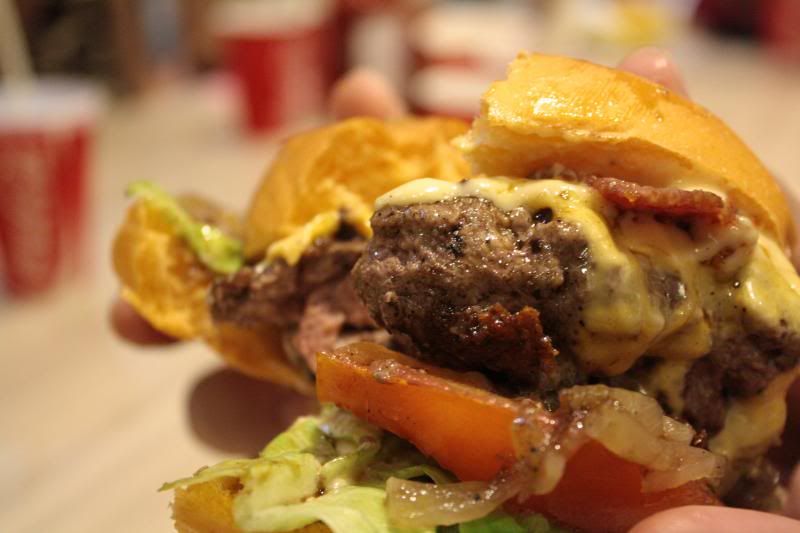 HAPPY COW - RM16.99
The Happy Cow is come with orange bun, single beef patty, single slice cheese, caramelised onion, and crispy beef bacon. My partner actually love this because the bacon had a strong flavour and there's also a mouthful of sweetness that came from the onion. There is also a mild orange taste from the bun that adds up to the overall flavour.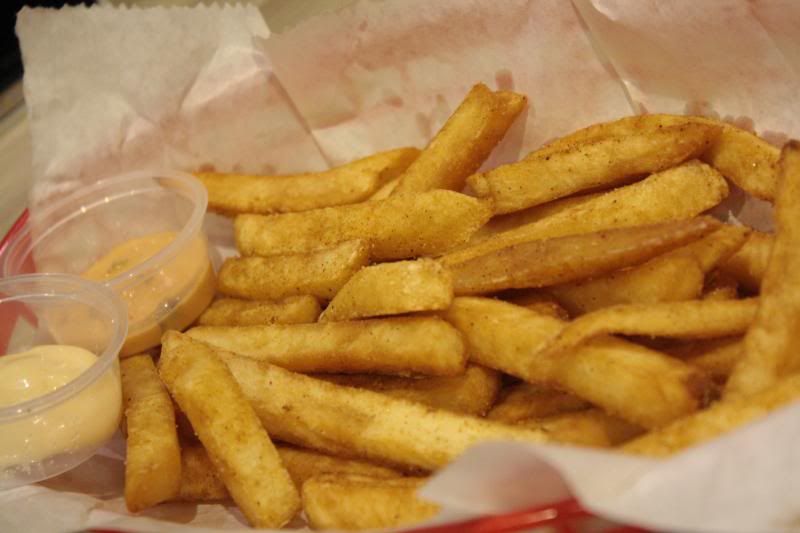 FRIES - RM6.99
The fries here was rather salty and was moderately crispy on the outside and not overly stuff on the inside. Nothing much to mention on the sauce as it is those you could easily get off shelf. Nevertheless it was still a good snack to go along during that hangout moment.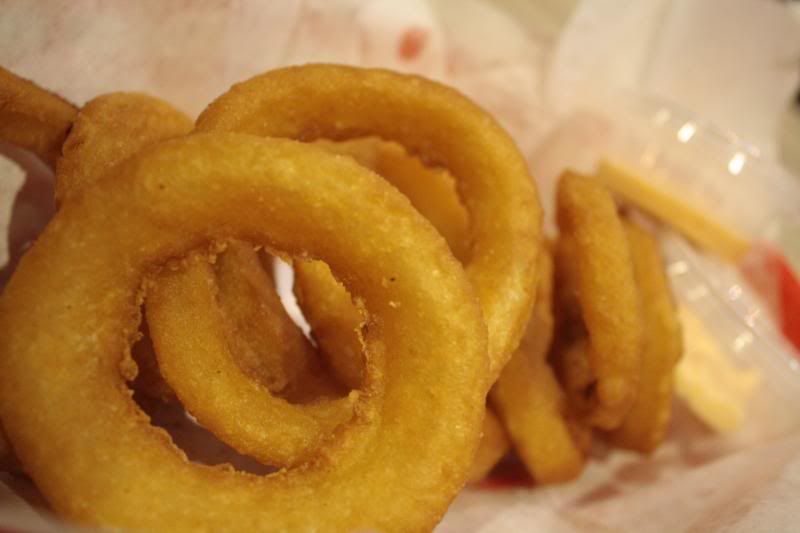 ONION RING - RM6.99
This has to be one nice snack compare to the fries. It was really crispy on the outer layer and moist on the inner onion and it is large in size. The only problem if you're those who love dipping into sauce, you will find it impossible because the sauces are placed on a small container. Highly recommended if you're looking forward to order a snack.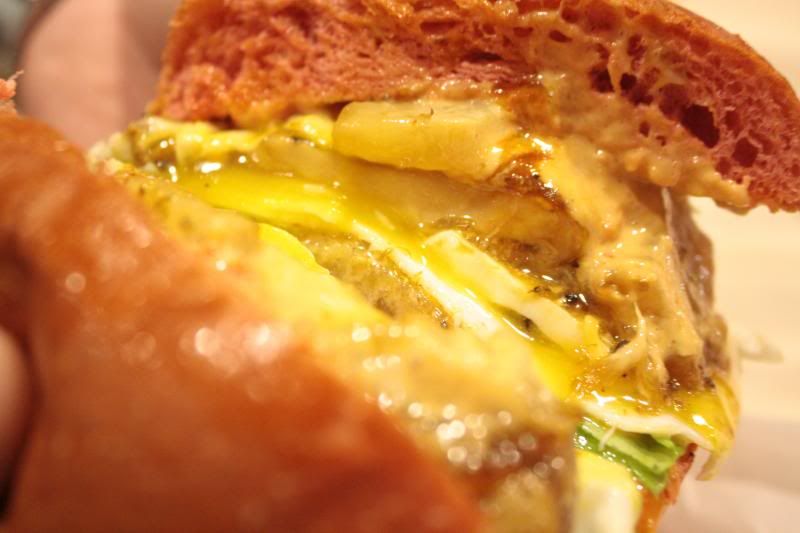 HOT CHICKS - RM13.99
Finally after part of the beef burger, the chicken burger was served. The first I had was Hot Chicks which is made with red bun, single chicken patty, single slice cheese, pineapple, sunny side up, and hot sauce. The egg is cooked timely so that when you bite onto the burger, the egg yolk would burst and dip down to the surface, covering almost ever angle of the burger contain. Chicken patty was perfectly grilled but was lack in flavor. Good thing about this mess is that the sauce and pineapple did play an important part in giving that refreshing Hawaiian taste.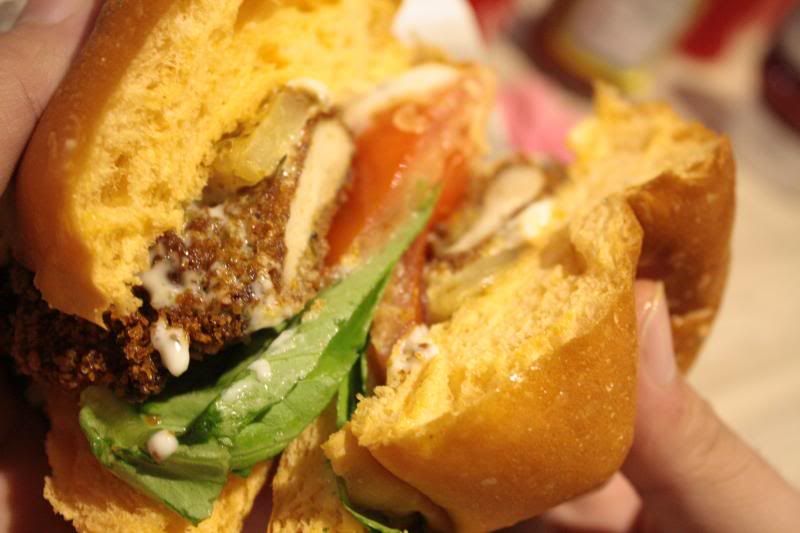 CHICKEN RUN - RM12.49
Chicken Run is made of yellow bun, fried chicken patty, pineapple, tartar sauce, and hot sauce. Being a fried food lover, this has definitely make double thumbs up. The chicken was well seasoned and fried until golden brown. The patty is good even on itself and beware the juicy pineapple and the sauces might make the fried chicken soggy, thus it would be best to consume it upon serving.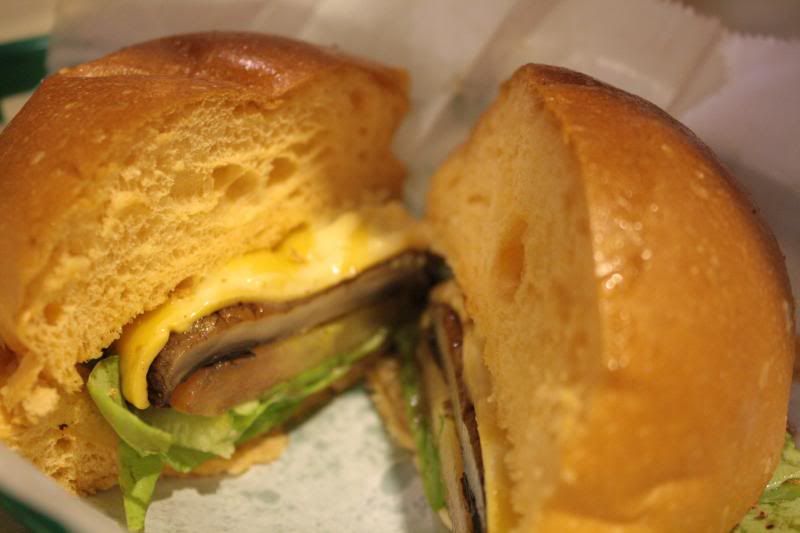 TWILIGHT BELLA - RM10.99
One of the good thing here which I didn't notice on other burger restaurant is that they do cater for those who doesn't feel like consuming meat (not sure if it is 100% vegetarian though) but still want to have a great time munching on awesome burger. The twilight bella consist of red bun, single grill portobello, and single slice cheese. Simple but tasty. The portobello offer a strong mushroom taste and the lecture was refreshingly crunchy.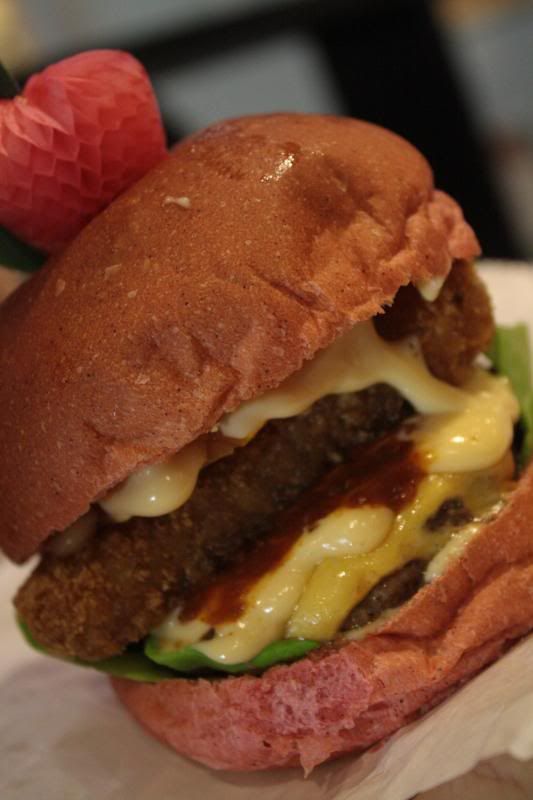 RED MOO - RM14.49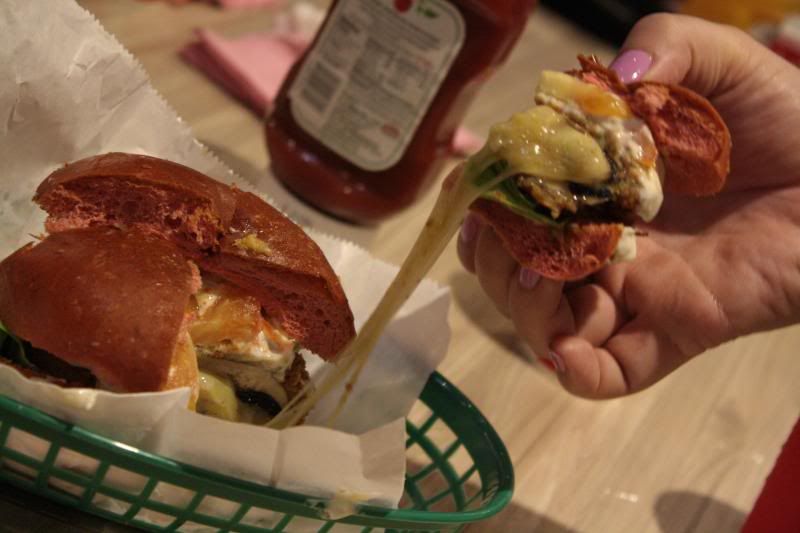 RED MOO - RM14.49
The Red Moo is a beef burger that consist of red bun, single beef patty, single slice of cheese, hash brown, and extra hot sauce.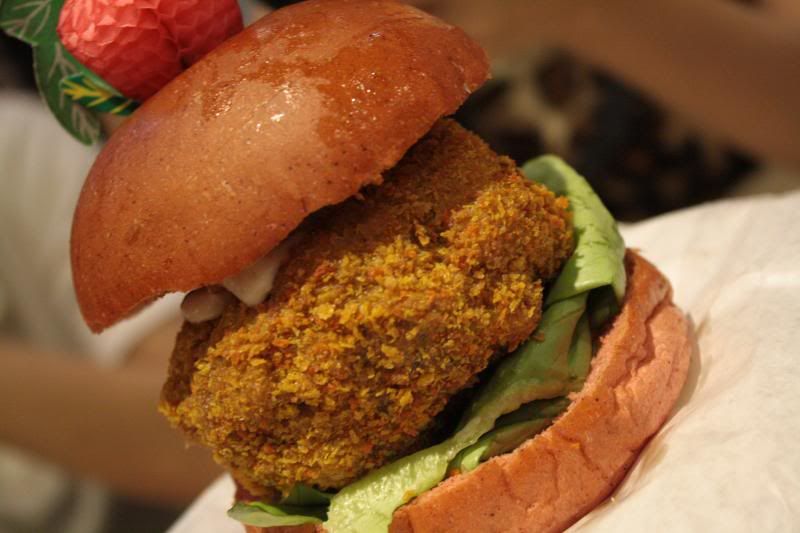 SHROOM BOMB - RM16.99
The Shroom Bomb is yet another meatless burger and as seen from the photo, it is filled with a gigantic mushroom. Shroom Bomb is made of red bun, double fried portobello patties, mozarella + cheddar cheese, and is finished with tartar sauce. As fierce as it look, the Shroom portobello had overly strong flavor and I believe not everyone would like the taste. The portobello is very moist and juicy whereas there is a lack of sauces in this burger.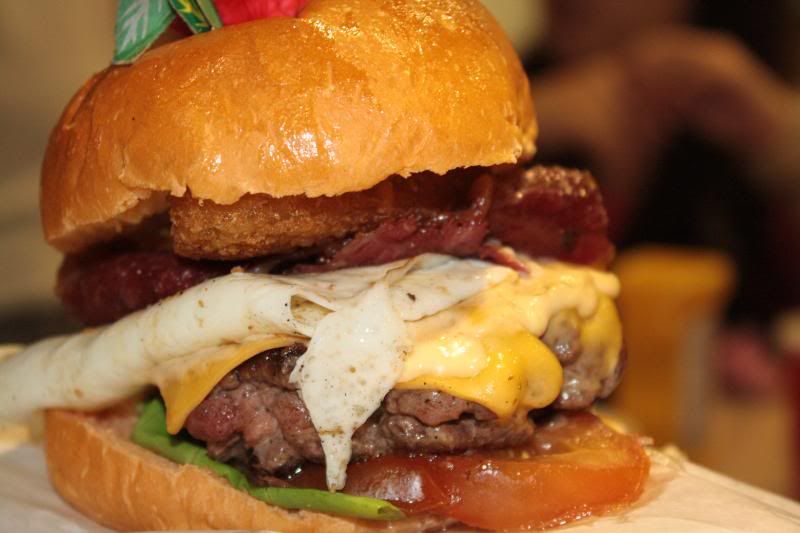 ANNOYING ORANGE - RM18.99
Annoying Orange has to be one of the priciest burger from the menu and it consist of orange bun, single beef patty, single slice of cheese, hashbrown, sunny side up and crispy beef bacon. I was told the taste wise was pretty close to Happy Cow.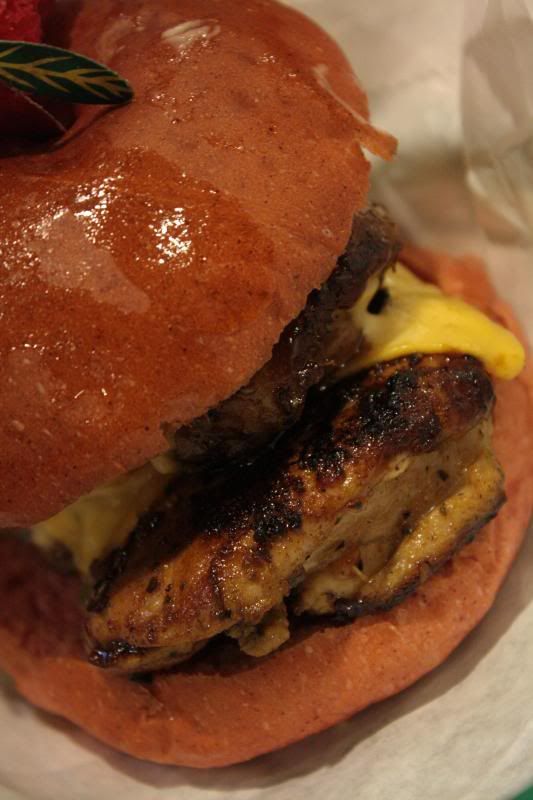 ONE MORE NIGHT - RM17.99
Beside Chicken Run, One More Night is also my favourite burger here at Smashies, and it is made with red bun, double grilled chicken patty, along with double slice of cheese. Sinful I know but the taste is pretty unique. Chicken was not over grill, moist and tender, and it has a presence of mild sweetness in it.
Location
Smashies Burger
Lot 126-G-5, Metro Genting,
Jalan Genting Klang, Setapak
53300 Kuala Lumpur, Malaysia
Operation Hours
6:00 pm - 11:30 pm
Contact
Phone : 012-399 7815
Email : smashiesburger@gmail.com
Website
http://www.facebook.com/SmashiesBurger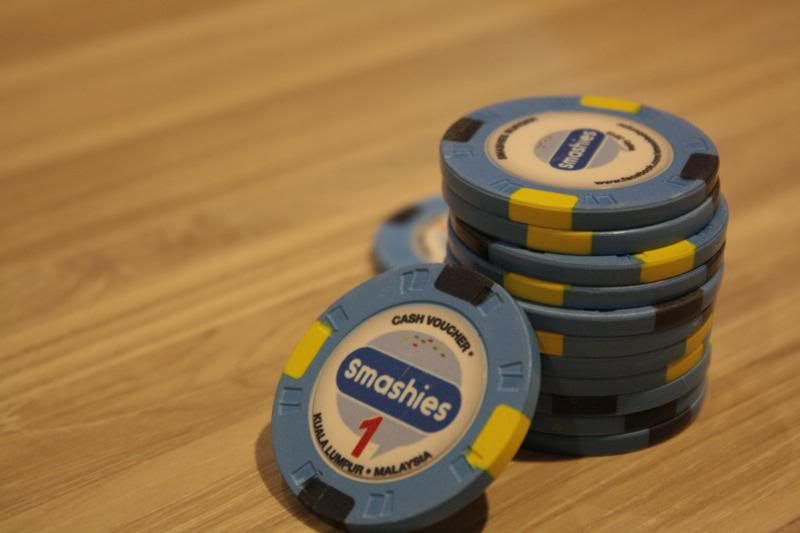 On an unrelated event, I do love the effort they put into Smashies Burger. Look at their cash voucher, it does stand out compare to others, doesn't it? However the overall taste of their burger was OK and I think they still have plenty of room for improvement. Do hope to see some new menu on my next visit.