Was yet another week of food review with the awesome people from Foodirector.com and this time round it was held at Sakura Kristal at Giant USJ. FYI this is the first franchise outlet whereby the previous 4 outlet were own by the founder itself. Even Giant USJ were just recently relaunch with a new look on early January 2013 and Sakura Kristal were one of the pioneer shop that open at the same date to capture the crowd and to cater to those who are always on the hunt for great food.
It wouldn't take you long to notice that they do serve reasonable priced food here in Sakura Kristal with the huge bunting located on every corner of the restaurant. They were range from as low as RM8.90 for lunch set which include a main course with drink.
Sakura Kristal serves mainly local and western cuisine and offered a pretty decent dining set-up for that comfortable dining experience during rush hours. You'll never see the place vacant at any given time.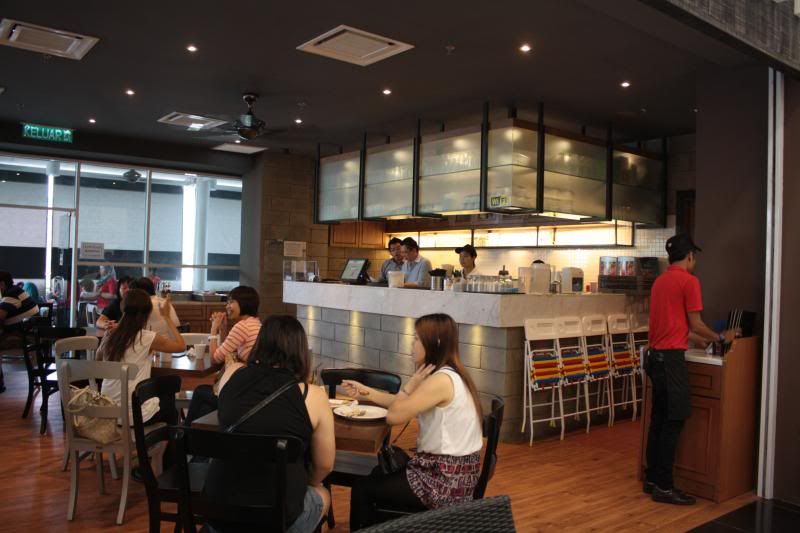 Shall we start dining now? The first dish serves was Signature Peranakan Seafood Curry priced at RM20 per pot. It is good enough to serves up to 4-5 pax (of course depending on how much you consume) for each pot and there's a spoonful of seafood in it. There were oyster, prawn, crabstick, squid, brinjal, lady finger, and long bean in the pot. Imagine how heavenly it could be especially when the thick gravy curry infuse into your plate of white fragrance rice. The dish can be consume itself as it is because it weren't too salty and has a strong presence of coconut and mild spiciness in it.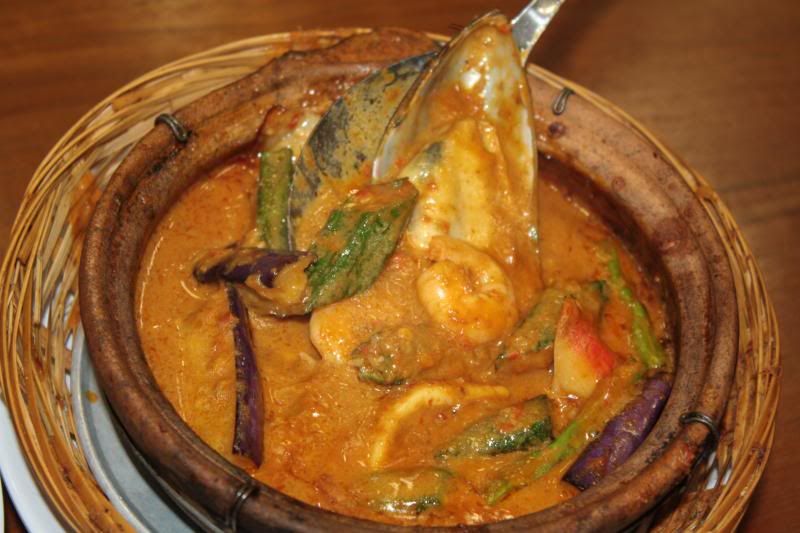 Signature Peranakan Seafood Curry - RM20
Next we have the Hong Kong Kuay Teow with Black Bean priced at RM8 per plate. Black Bean is known to be packed with protein and fiber which will keep you full and energetic for hours and it is rarely seen in our local cuisine. The method of cooking is pretty similar to the stir fried noodle and is finished with the black bean gravy. There were a fair amount of seafood in the dish too but taste wise I personally found that it is pretty lightly flavoured. There were lack of salt to give that impressive taste and thank to the portion of ingredient, it did gave some flavour in every chew. The Kuay Teow has a pretty smooth texture and had a wide surface.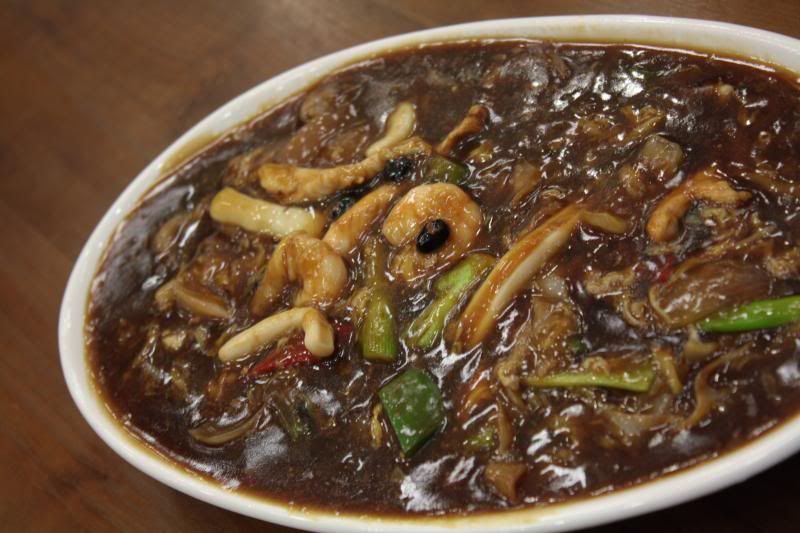 Hong Kong Kuay Teow with Black Bean - RM8
Next on the menu is Pan-Seared Dory with Vinaigrette Sauce price at RM17 per plate. Though served with Vinaigrette Sauce which is a mixture of oil (olive oil and such), vinegar, and some inhouse seasoning. Serve alongside were fresh salad made with lettuce and shredded carrot and a fair portion of potato wedges. The Dory fish were soft and tender but there were a lack of flavour to it. The crispy outer layer may be slightly soggy due to the vinaigrette sauce but it was the same sauce that kept it moist.
Pan-Seared Dory with Vinaigrette Sauce - RM17
One of the highly recommended dish here at Sakura Kristal would be the Black Pepper Beef Fried Rice priced at RM12 per plate. Even though I couldn't consume beef, I did tried on the fried rice and man how I wish they have the chicken version of it. Being a black pepper fan, it is rarely to taste such a good fried rice without having the black pepper ruin the entire taste of the dish. It wasn't as spicy as some would have thought but I would prefer it to be slightly hotter. Notice they gave a huge amount of beef in the fried rice and the portion can be good for 2 pax of light eater that is.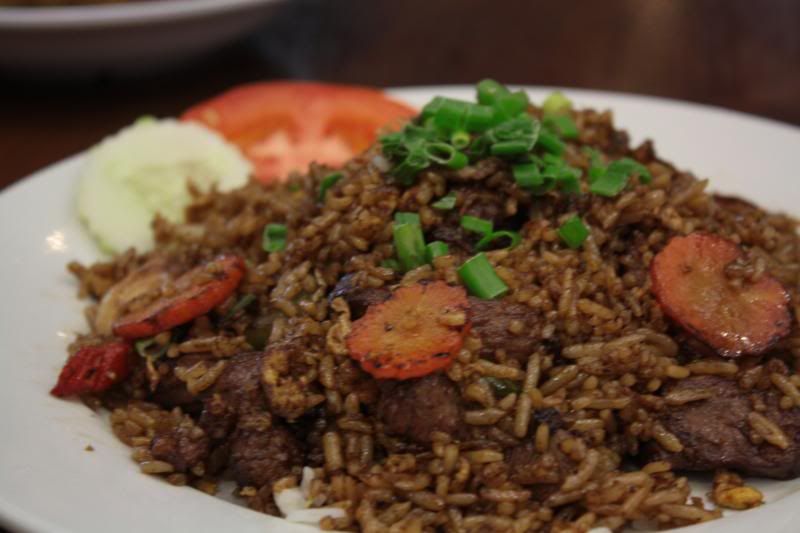 Black Pepper Beef Fried Rice - RM12
This Thai Fried Soh Hoon may look like typical Fried Beehon is actually quite ordinary. Instead of beehon, grass noodle is being used and it is priced at RM10 per plate. Sadly this is the one did that didn't really impress me not because it wasn't good but because it was the common taste that often found elsewhere. It may also due to because I have strong flavour food tasted before this dish. There were also not as much ingredient in this if were to compare to the other dishes mentioned above.
Thai Fried Soh Hoon - RM10
The Indonesian Treasure on the other hand is priced at RM12 per plate and it come with not just Indonesian style fried rice, but also 2 pcs of papadam and 2pcs of fried chicken. I didn't get to taste the fried chicken but from the look of it, it is promising. The fragrance fried white is pretty darn good all by its own, there's no gravy required and it make you wanna lick the plate clean. As satisfying as it get, the papadam was sadly not as crispy as it should, it felt like it was left on the open air causing it to be soft on certain part of it.
The Indonesian Treasure - RM12
Another signature dish here in Sakura Kristal is none other than the Tofu Jong Kong Emas. Even though the name suggested there's tofu, it wasn't the silky soft type of tofu as I've expected. It was actually minced along with fish meat forming back the tofu shape with some seasoning, deep fried until golden brown. It is also served with chili sauce which I did not have as the tofu itself was sinfully delicious. It has the crispy crunch texture, chew-able, and is flavourful. Tofu Jong Kong Emas is priced at RM14 per plate.
Tofu 'Jong Kong Emas' - RM14
Crispy Brinjal which is priced at RM12 per plate did wonder to me. I never like and never take brinjal, but if you were there, you will be surprise that I almost finish most of the portion. Although named as Crispy Brinjal, it wasn't that crunchy. It simply mean it has been deep fried and served with some in-house condiment. Though slightly over salty, it really go well with the white rice. The miracle part is where you might not even fall in love with the dish or worse case not knowing that you're having brinjal.
Crispy Brinjal - RM12
Mango Crispy Chicken is something similar the your sweet and sour chicken and is priced at RM18 per plate. I think it was rather cheap for that price, you're actually getting a huge portion. Mango is used to replace the traditional sauce and it does leave behind a refreshing sweetness to the dish. Chicken were boneless so you could enjoy it like without hassle of debone it.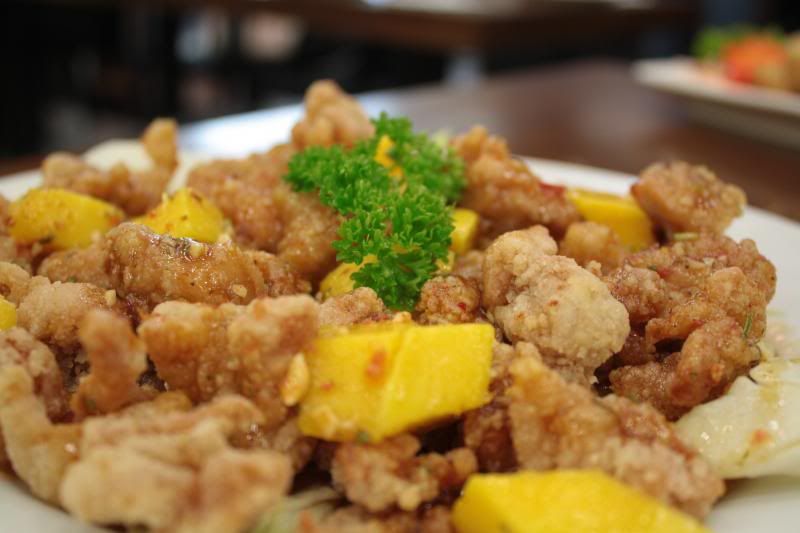 Mango Crispy Chicken - RM18
Chocolate Volcano doesn't met my expectation as I though there would be large amount of chocolate syrup would be blasting out upon cutting the cake. It was rather dry and the cake has a strong chocolate flavour with crispy outer layer. There's this Vanilla ice cream that would definitely add some moist to the cake and they weren't that sweet compare to other dessert elsewhere. The Chocolate Volcano is priced at RM9.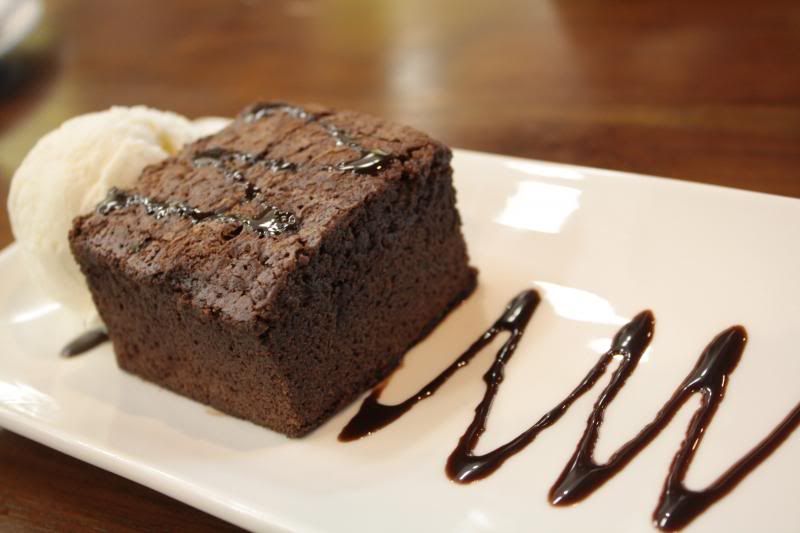 Chocolate Volcano - RM9
Bread and Butter Pudding on the other hand had a refreshing appearance and is priced at RM9. There were cubed fruits on top of it and is also served with a scope of Vanilla ice-cream. The bread was soft and filling at the same time. The fruits were however too sour as dessert but overall it was still a great dessert after a heavy meal.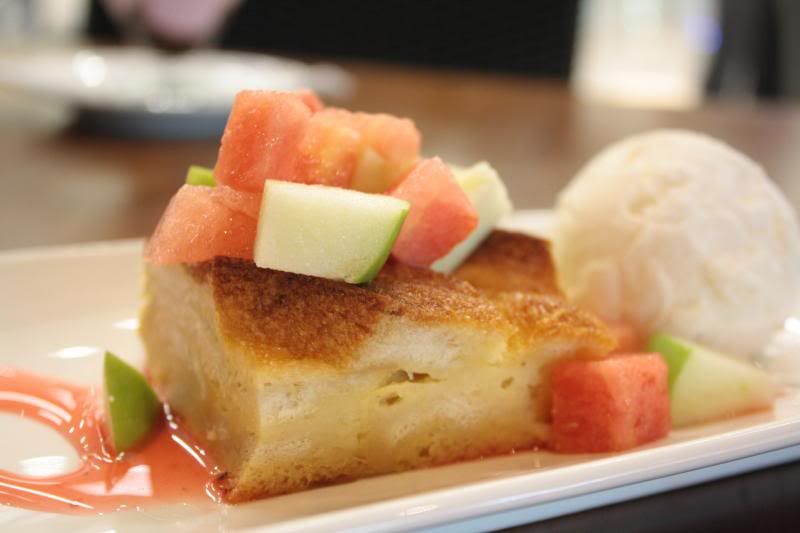 Bread & Butter Pudding - RM9
For those with sweet tooth, you may want to try their StrawberryTower which is priced at RM8. The gigantic dessert resemble ice-cream on cone that you could get in the market. The corn flakes used actually gave the crunch factor and the sinful dessert is sweet as it should.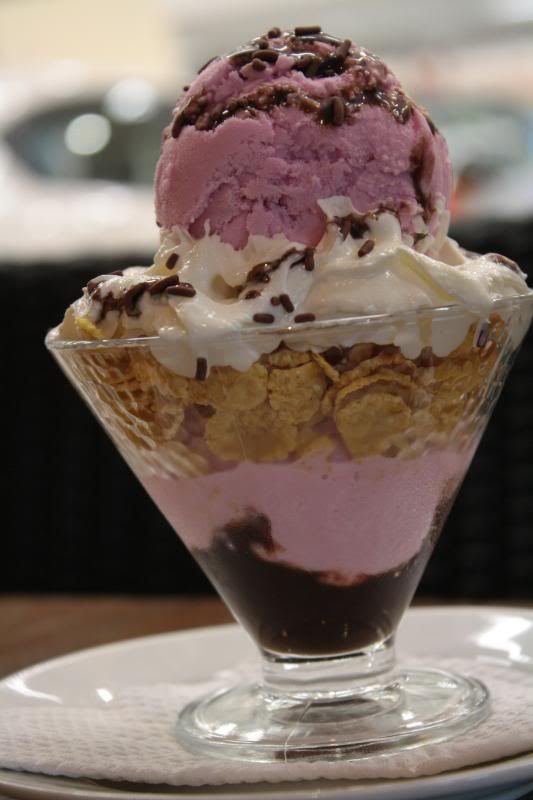 Strawberry Tower - RM8
Berry Cool come in two size and is priced as RM7 for regular cup and RM12 for large size. It is actually a combination of soda and blackcurrent topped with slice of lemon. Be sure to stir well before consuming because otherwise you couldn't feel the uniqueness of the drink. It is gassy and refreshing especially after a tiring shopping trip in the hypermarket nearby.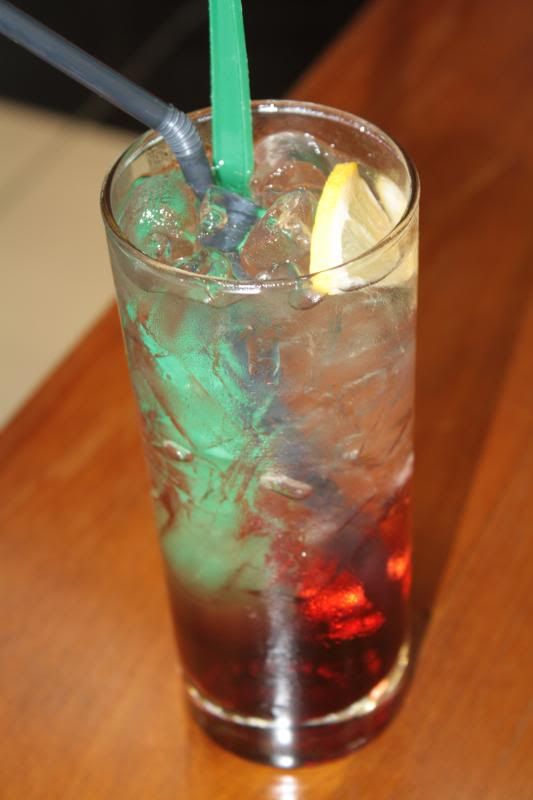 Berry Cool - RM7 (R) RM12 (L)
Crushed Ice Jasmine is my preferred drink because it was simply a healthier choice and is price at RM7. It consist mixture of jasmine tea and honey. Refreshing as it should and it wasn't overly sweet according to my preference.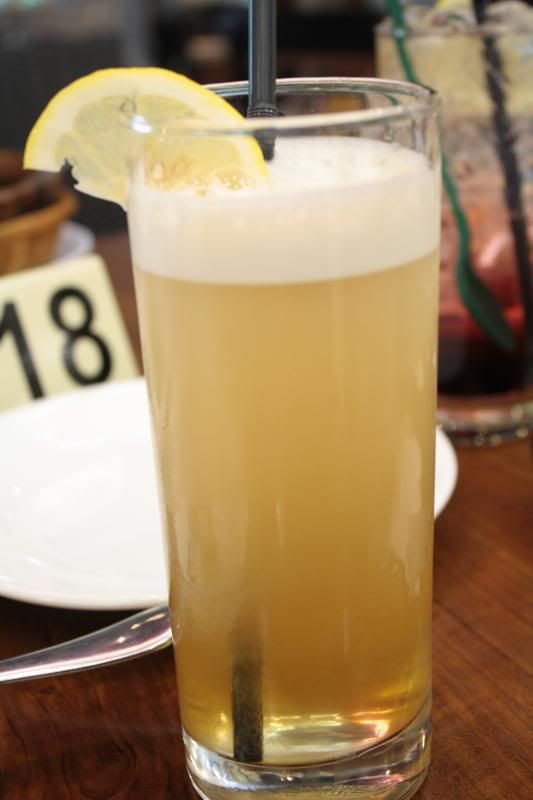 Crushed Ice Jasmine - RM7
The next time you shop at Giant USJ, why not drop by Sakura Kristal and tried the few signature dish I mentioned? It wouldn't disappoint you and your tummy.
Location
Sakura Kristal
Lot no G14 - 15 giant hypermarket,
subang jaya, 672 & 673USJ 1 subang 47500
Operation Hour
Mon - Sun: 10:00 am - 10:00 pm
Website