Brisik, an Indonesian Siamese based cuisine quietly located in the center of Jaya One. Seriously I've been to Jaya One numerous time but never really notice Brisik. It seems to be pretty quiet on its main entrance and was especially confusing on whether it was a makan place or merchandise / message shop. Well that's what I felt when I first step into the main entrance.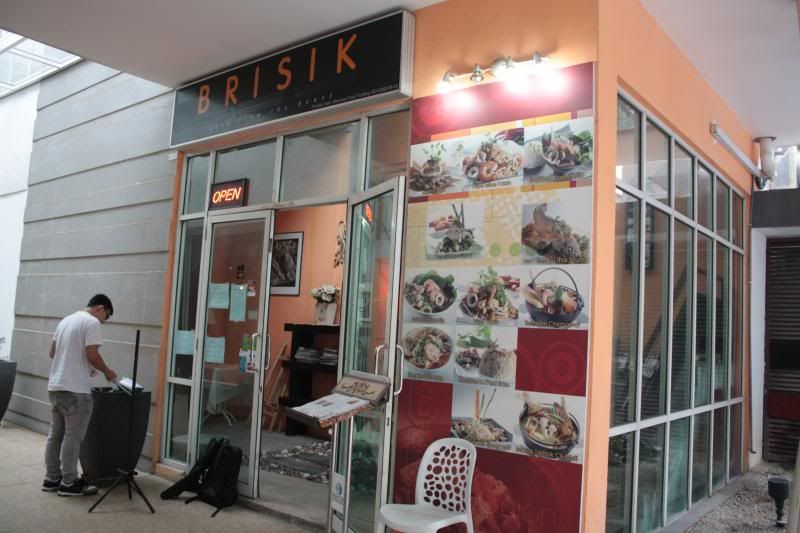 The reason it was confusing is simply because its dining area is located upstairs and there were some rather soothing set-up on the lower level as illustrated in the photo below.
The surrounding of Brisik is moderately decorated according to the restaurant theme. The space is big and good enough for company function and to cater for bigger crowd despite the close gap arrangement. The inner dining area is somehow pretty dim but would the food be good enough to compensate it? Let's find out more after the photo below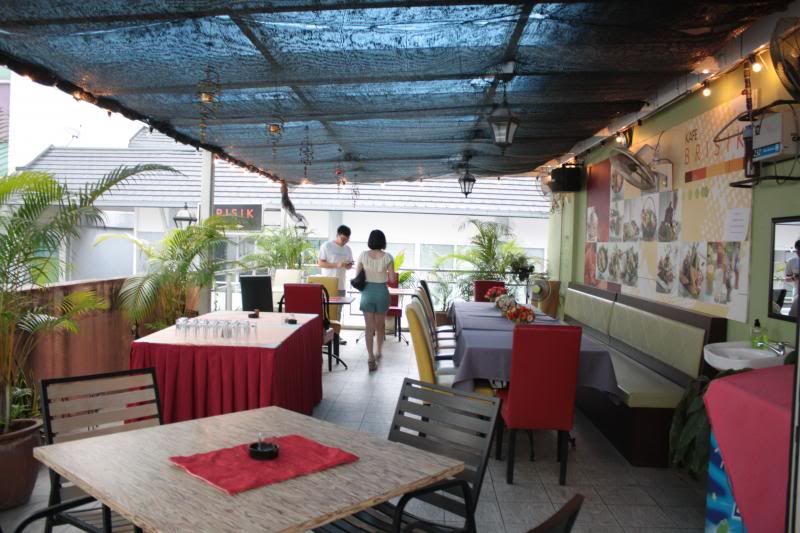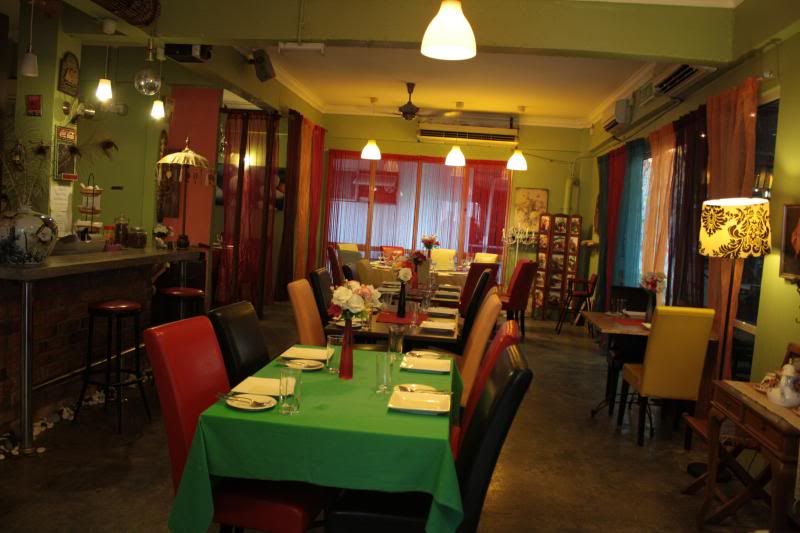 The first dish of the day is of course none other than the drooling fried based appetizer called Satagor. It is actually a made with minced beancurd, mix vege, chicken, and potato wrap together and deep fried until it is brownish, alongside with fried mushroom. The Satagor is pretty unique in taste but the were sadly overwhelm by the potato. It wasn't crispy like the fried mushroom and it is pretty "meaty" with filling. The price for Satagor is RM9 (3 pieces) and Crispy Mushroom served with Thai sauce is priced at RM11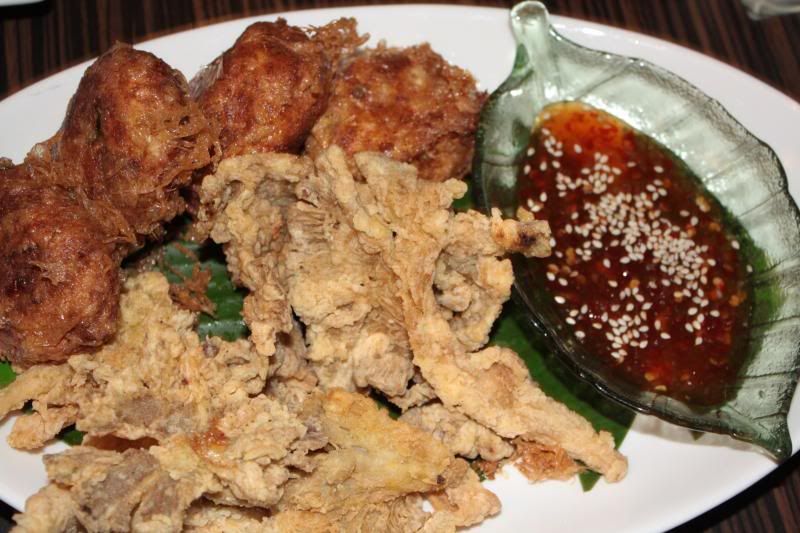 Satagor with Fried Mushroom
Next dish served was undeniably one of Brisik's Signature dish and is no doubt to me that one of the best Satay I had so far. Instead of the wooden stick you often seen, it is replace with lemongrass for that extra aroma. The chicken was minced marinated with in-house spices and then wrap around the lemongrass before being BBQ over the fire. The best part of this is that it has no lean meat in this Satay. Every bite without the sauce is indeed satisfying. The Satay is priced at RM12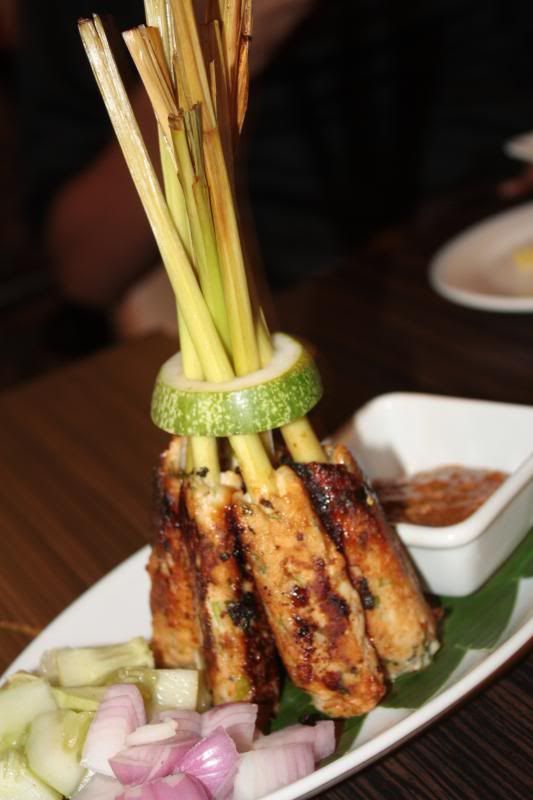 Chicken Satay
Still on the appetizer, we had some Kerepok (cracker) lookalike but instead of the ordinary ingredient (fish, flour, etc.) it was made from some vegetable which I couldn't recall its name. According to the owner, they are VERY bitter when eaten raw, but after the process which turn it into Kerepok, it is editable. I tried on one and love it immediately even though there's still slight bitter in it. This is the dish where either you like it or not, there's nothing in between. I think I finish the entire plate without realising. Texture wise, it was pretty similar to the other Kerepok we had, except that it wasn't that crispy in the middle part of it. This dish is priced at RM5 per plate.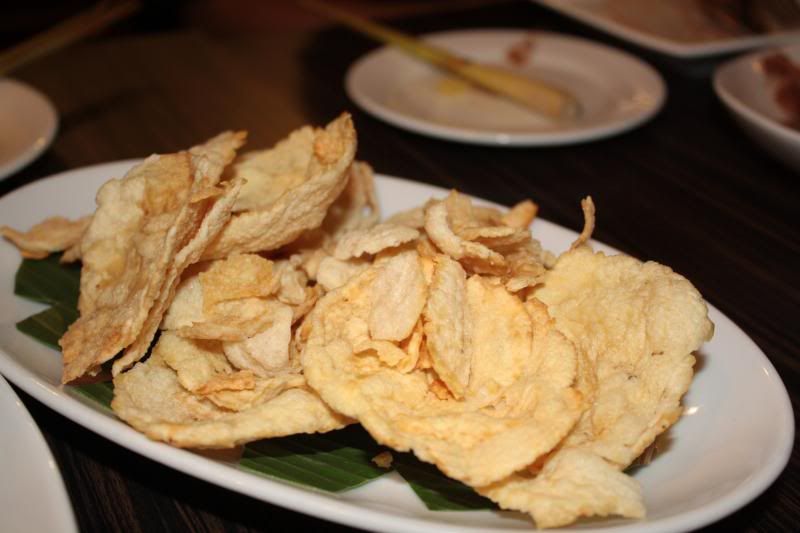 Kerepok
Then come the main dish, there were several dishes serves at the same time, along with white fragrance rice to go along with. There were Pucuk Paku, Ayam Penyet, Dancing Fish, Gulai Kambing, and Tauhu Telur served to the table. Will go into every single dish in details.
The Tauhu Telur as the name suggest, is mainly Tofu wrapped in egg. It was fried until golden brown before serving it over a plate of sauce and is finished by shredded of cucumber and carrot for not just the presentation, but also the flavour to such a simple yet delicious dish. The Tofu has a soft and smooth texture that would definitely melt in your mouth whereas the outer layer leaves a strong egg aromatic behind.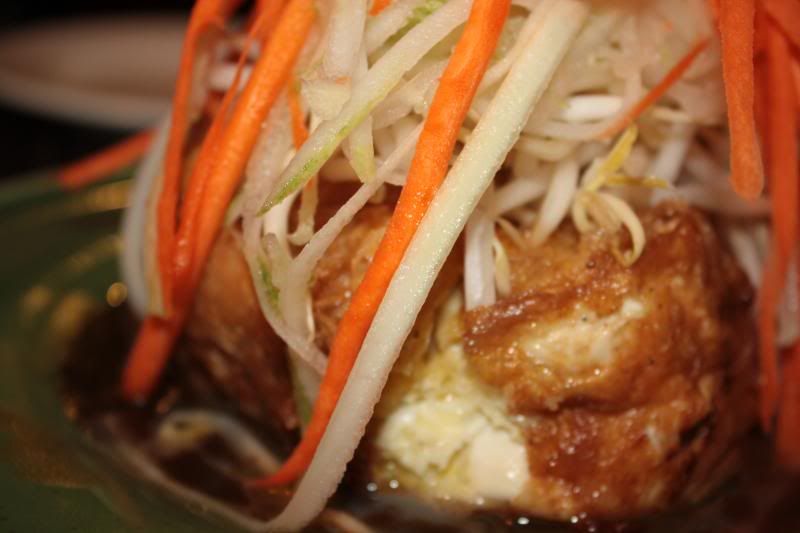 Tauhu Telur
One couldn't miss Ayam Penyet when they're dining in Indonesian based Restaurant and so we had the Ayam Penyet too. The best part of this dish is that the Ayam Penyet (flatten chicken) is that it is boneless. The chicken is grilled and season with large amount of tomato with some chili for that mild burning sensation in your mouth. Not spicy to me to be honest but the large amount of tomato used, did in fact add on to the sweetness to the dish. The meat used were mainly from breast and/or rib. It was pretty unique in taste but I still prefer the usual Ayam Penyet I had and don't get me wrong, this is good, but my preference has always be fried food.
Ayam Penyet
Pucuk Paku is on of the green dish among all the protein we had. Stir fried with red pepper and topped with lots of sesame. It was very crunchy and there were a mild presence of sweetness in the vegetable. It wasn't any typical vegetable I usually had and would really die for more.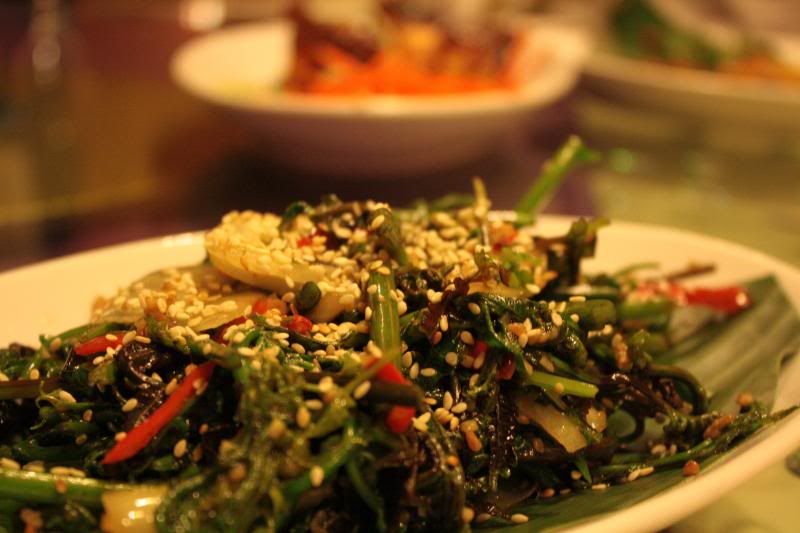 Pucuk Paku
Gulai Kambing is a curry based mutton serves on banana leaf. The outstanding part of Gulai Kambing is where coconut used to cook curry has been replaced with low fat milk and surprisingly not only it didn't ruin how curry should taste, it enhanced the flavour and also giving the right thickness to the curry. Is was indeed good as gravy for the white rice as it has spicy yet sweet and milky taste in it.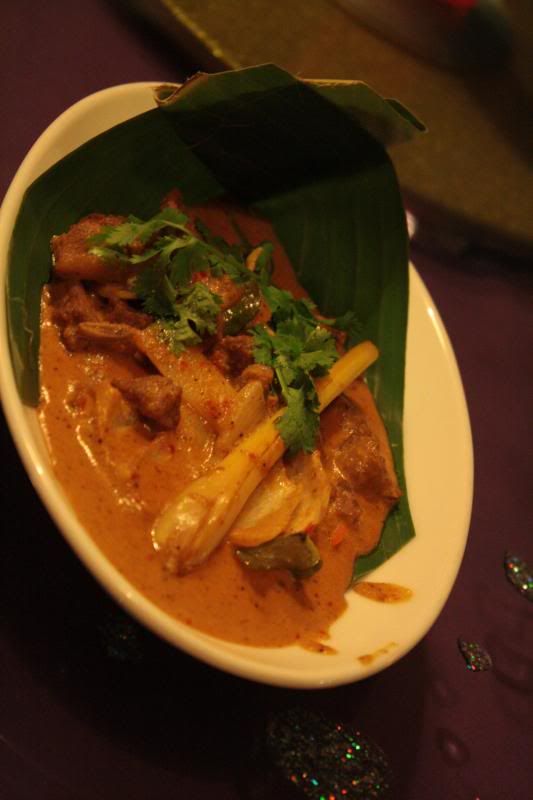 Gulai Kambing
The Sundanese Dancing Fish, as glamour as its name sound, is a dish that would definitely caught the attention of any diners, stopping others from dining, making way to feed the camera first before feeding the guest. Taste wise was however pretty dull to my liking, maybe due to the lack of seasoning. However the condiment served along did give the taste a boost and is a must dip for this dish. I for one didn't really fancy the Sundanese Dancing Fish simply for the fact that it was pretty troublesome to 'dig' in. There were fish bone everywhere.
Sundanese Dancing Fish
To finish the meal of the day we were served with a sweet dessert. Not sure what it is called again, but it is pretty close to our version of cendol. There's this milky based with brown sugar to add on the sweetness to the dessert, pretty decent nothing special except that it does feel and taste good given that weather nowadays is steaming hot.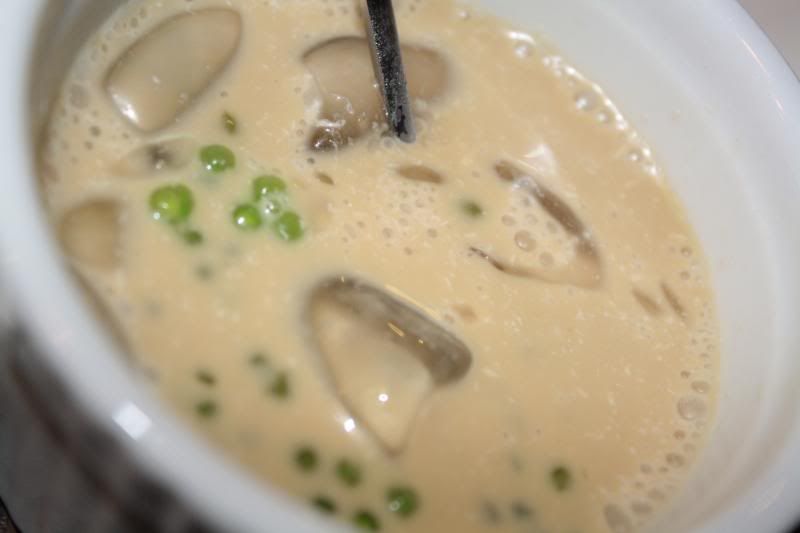 Dessert
As for the drink, we were served with pretty much few types of fruit juice, asam boi, and avocado chocolate.
Lemongrass Asam Boi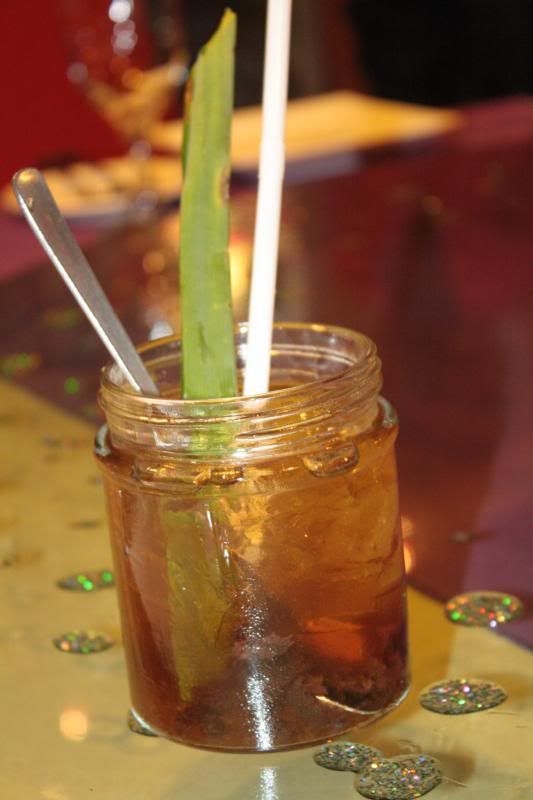 Asam Boi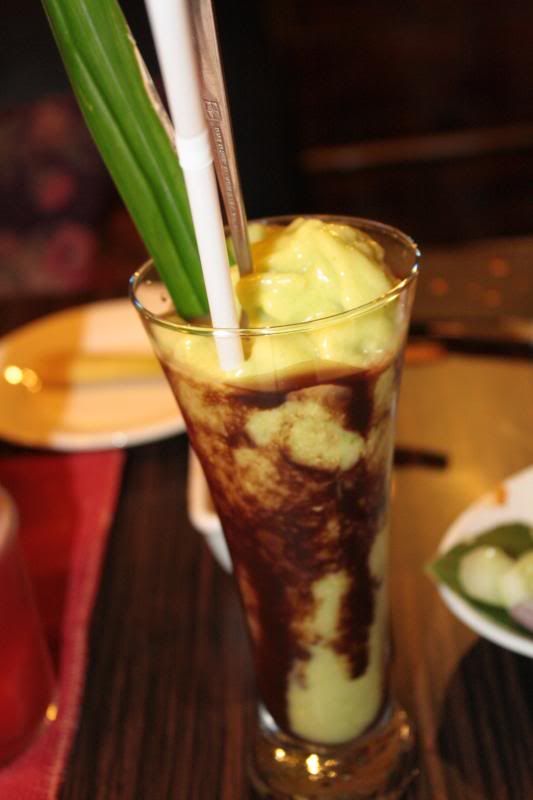 Avocado Chocolate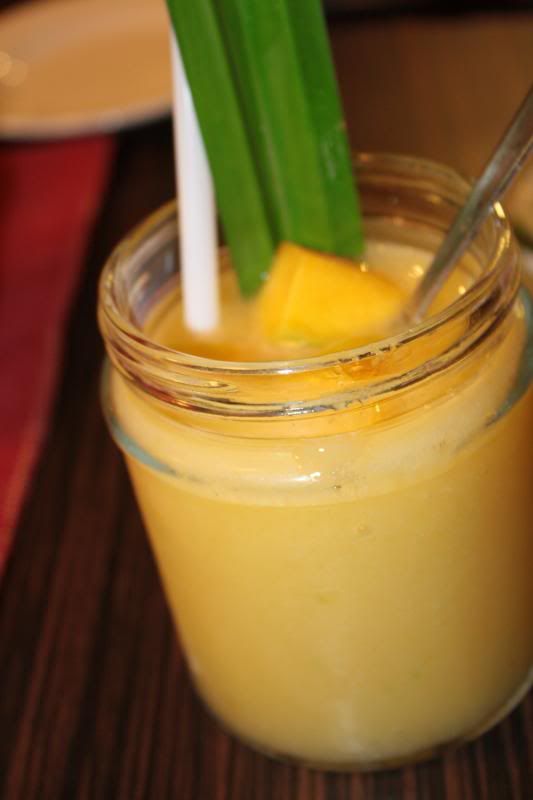 Mango Juice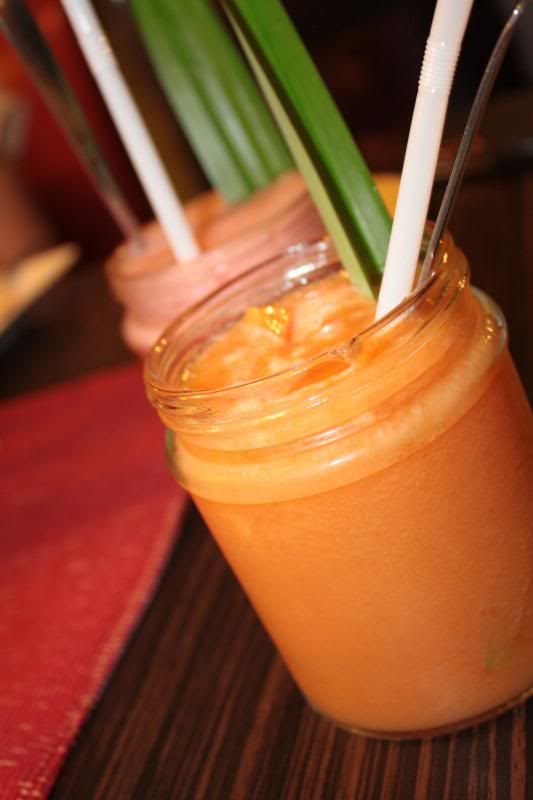 Papaya Juice
Watermelon Juice
Location
Brisik
Blk M, Unit 10, Level 1, Phase 1 @ Jaya One
Contact
Email:
nusmawati@gmail.com
Operation Hour
10am-10pm (Fri & Sat until 12am)
Website
www.brisik.com.my