The heat is on, no not the hot weather, but the heat of FIFA World Cup 2010. Yes FIFA World Cup 2010 is gonna start at 11th June till 11 July 2010, so you do the calculation how many days left.
Here's the matches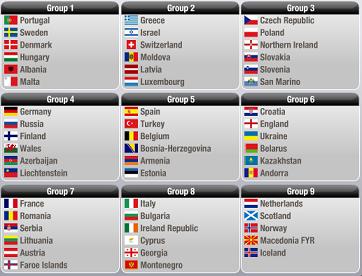 Although I'm not a football fans myself, but I do catch them live whenever I can at wherever I could. If you ask me who is good I don't know I can't tell, and I couldn't even differentiate between team, club, and etc.. But catching them live on World Cup bring a whole new meaning to me.. It is a form of socialization and catch up with old buddies..
Like everyone here each have their own preferred team. I for once like Brazil because they have quite a few star in it although I can't recall their name but Ronaldo is one you can't miss.. But for 2010 I hope that either England or France will win.. Nothing personal just wish they could win, after all these are the 2 teams that I use often when playing winning eleven on console gaming and I think they have quite a strong formation.
Ok I shall refrain myself from speaking like I know alot about football, otherwise I will either get fired by my readers or make them ROLF till dawn..
Whatever it is have you guys prepare your gears? Stuff like peanut, beer, drinks, food, junk, friends, LCD, and etc etc.. Also for those screamer do scream considerably too..
Adidas and P1 have this special edition item in conjunction of FIFA World Cup 2010 check it out..
Have you miss Project Alpha again? Here it is
Episode 26
Episode 27
Episode 28
Project Alpha is presented by Adidas Action 3 and supported by P1 and MAS.