Just came back from the premier screening of Tsunami at Haeundae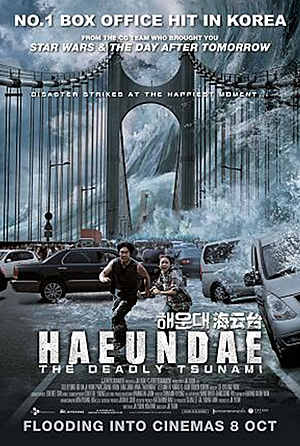 Tsunami as the title tell, is all about earthquake and wave, and lost of life of course. It started off naggy as it tries to apply and introduce character and roles to the audience. When a guy working at the weather forecast (or safety measurement officer) highlighted that Tsunami is going to hit Haeundae, no one choose to believe him, until it all came true, but it was then too late. This is just part of the intro, there were still a jobless man with his mom, a safeguard with a girl who is seeking for partner and her friends, also a guy who promised a dying man to take care of his daughter.
The wave was freaking huge, real, and scary. Credit for that, but apart from that, everything else was rather fake. Stuff like the explosion, container collapse, damages on bridge, damages on buildings, damages on the city were all a laugh stock.
This tsunami scores itself a 2 magnitude out of 5
On a side note, this seems to be a promising movie -
Raging Pheonix
staring Jija Yanin
Top 3 reason why I think it is nice
1) Because it have plenty of awesome and skillful martial art presentation
2) Jija Yanin in short hair
3) Jija Yanin in punk/goth style
Just Lovin It
Also in this movie featuring first time ever
CHINESE DRUNKEN FIST VS DRUNKEN MUAY THAI
Trust me, you don't want to miss the trailer