It has been months since me and my sis hang out together and out of boredness we decided to go somewhere instead of spending our lovely Sunday at home.
First Stop:
Some Vegetarian Restaurant in SS2

I love the curry noodle there so much. The noodle is so "Q" and the curry is spicy enough spice up your day. After the satisfied lunch, we were fighting for the bill but she somehow manage to grab it. Was fighting like kids and not sure if there is other people looking at us. =.="


Second Stop: Digital Mall, Section 14
We quickly browse through the mall to hunt for 1TB External Harddisk and found the cheapest (at that point of time) one is located at All IT Hypermarket and bought Maxtor Basics External Desktop Hard Drive 1TB that comes with 3 years limited warranty for RM409 o.0
Other shop were selling around RM439+- =.="
Third Stop: Cineleisure
Mutiara Damansara
Immediately head up to Cathay Cineplex to get ticket to some movie, but as usual it is packed with queuesssssssssssssssss and we decided to cancel our initial plan to catch a movie.
Forth Stop: Bentley
I suggested that we walk over to Bentley to have a look on the drumset and so we did and was surprise to see that instead of reduced price, those drum set were tagged with a much higher price than it was in the previous month especially for all the Pearl series (Export, SoundCheck, Vision, Forum)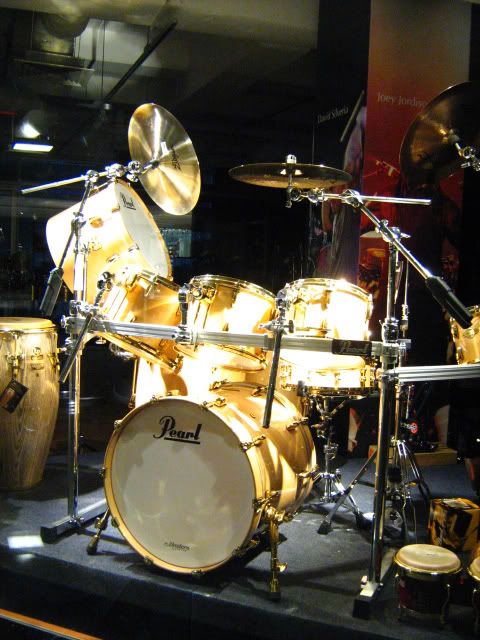 Final Stop: Tesco
Went there to buy some junk and while shopping I receive a call from my customer and we talked over the phone for around 1 hour + discussing some issues. What a day! The best part is I never notice my sis grab a few stuff for me, I thought it was all hers until when we went into the car she put this in my car
Ambi Pur Gel Crystal
She claims that my car is very smelly and that I need this to aid me in courting girl. Lol. It is really a refreshing and yet sweet smell. Yes sweet as candy as if my car is turned into some candy car filled with honey and sweet cream. She even threw a packet of Miao Miao spicy snack and asked me to tried and I have to admit this is the second snack (after Chipster) that makes my tongue numb, that shall describe how spicy it is. Again, she just doesn't want to take the money back. =.="
Well thank you sis for the great day and your companionship and also thank you for the ambipur and the lunch, remember I owe you a big meal too, so don't fight for the bill next time. In case you are wondering this is my sis
Pretty right? But some said cute.. So pretty or cute, you be the judge..