Back in my years (
go figure how old I am, don't ask
) having a mobile phone is like having iPad now. Every chick will cling to you and play with
you
your iPad.
However owing a phone back then was rather pain in the heart because you have to fork out RM2,000+- for the butterfly phone (
Nokia 8250
). Having an ego in me I want one of those too, but I did not come from a rich family so it could only be dream for time being.
So I decided to earn my own first phone and started to work on part time basis on every school holiday and etc, and because my pay is so low till I only have sufficient moeny to get a decent phone, and that was when the Nokia 6600 being released.
Knowing that these are my hard earn cash, I decided to turn on the "
kiamsiap
" (
stingy
) mode in me, scouting around from mall to mall, and even portal to forum. Still remember everyone is talking about "
Yee-bay
", PayPal, Cari, LYN, Lelong and etc that time, and so I search all of em looking for best deal. The 6600 cost RM1,800 during the time and I found a deal one should not miss at a stunning price of RM1,400 (
actually after summing up my petrol, time and effort, it is back to square one
)
After a few message exchange I got to learn that the seller is currently being assigned to work outstation, Kuantan if I still remember correctly which if I want the phone urgently I can meet him in Kuantan to C.O.D, otherwise I will have to wait till he is back. He is a part time cellphone seller by the way, and according to him I can get a little more discount if I buy 2 phone when I asked for cheaper price, knowing that this is already a steal.
The Virgin
So, the urge and eager of getting my first phone has build up and I couldn't any an additional second more and decided to purchase 1 unit (
failed to persuade friend to get this soap look alike phone
) from this seller through courier.
It was a suicide move. You see people often say that "
if you don't know, just ask
", but my question is if I don't know its existence, what is there to ask? Same thing happen here, I never did any research because I
NEVER
knew that there were such thing as online scam back then.
It may sound like a joke to you, but this is real, I'm not making it up for the sake of getting attention. I was
SCAMMED
. Right after I transfer the money over, the his account, there was no further response from him. Only then I realise how stupid I was. T_T
The reason I called myself online shopping virgin is not only because I wasn't aware of such scam, I never ever take note of the details like username, and I didn't know who to turn to when I needed one.
The Red Alert
This is by far the most expensive lesson in my life,
BUT
that doesn't stop me from shopping online after that. In fact, until today I still do shop online for business and/or personal goods and services. Not only I'm an often online buyers, I too involved in
ONLINE SELLING
too.
Yes that's my official online shop that sells accessories / cloth and etc.
Official Fanpage:
http://www.facebook.com/urfashionzsense
Official Site:
http://www.urfashionzsense.com/eshop/
The thing I try to do is to ensure that my client / potential client shop comfortably minus the fear of being scam from making payment to receiving goods.
From time to time I do read up about latest hustle trick and always remind those that I care about and since I do care about my readers, here are some quick basic tips
Is a deal is too good to be true, then it probably is not authentic

Always do a Google search on whatever info you have (like username / name / contact number / bank account / address / etc)

If possible arrange C.O.D (Cash On Delivery). By doing COD doesn't make you 100% safe either. Be sure to pick a place where it is not quiet and a place and best to have someone accompanying you during the COD

Read up the forum for "Importance Notice", "Pin Thread", "Dispute", and any other topic that is similar to it. (Eg: http://forum.lelong.com.my/bbs/thread-37667-1-1.html)
I sincerely understand people got worry when it comes to online shopping. My advice is to do your homework right and don't be lazy, eventually you will be able to enjoy authentic great shopping experience.
Hey after all credit card is not fraud free right, and almost everyone is using it. We don't stop using it because there's a loophole, we enhance and make it better instead.
Pssst.. By the way there is a Lelong.my E-Commerce Fair coming into your way details as follow
Date: 12th - 14th August 2011
Time: 11am - 9pm
Venue: Mid Valley Exhibition Centr Hall 1 & 2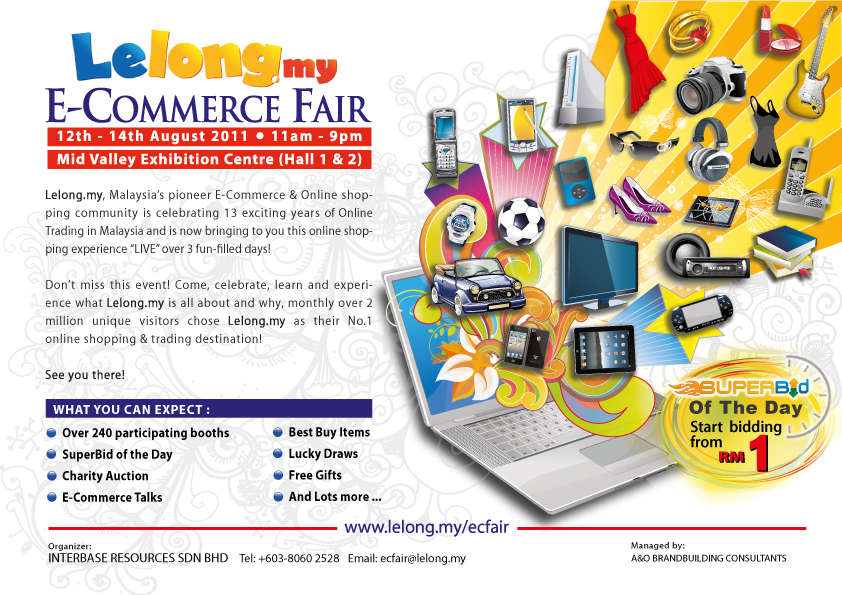 There will be tones of item / display and what's cool is that there will be loads of latest gadget at RM1 as starting bidding price. For more info feel free to visit