Time flies. Yet another great year had fly by. While everyone is busy welcoming 2011, I on the other hand was busy checking out what movie 2011 have to offer. Surprisingly there were quite a large number of 'famous' movie soon to release, but are these movie worth the hype? Guess only way to find out it to watch it by then. Just return from Cathay e@Curve for the premier of Paranormal Activity 2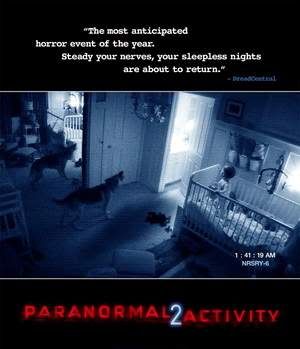 If you have seen Paranormal Activity you should get the idea what the second installment is all about, not ghost but rather demon / devil. This title is actually is a prequel to the film Paranormal Activity. It soon started with a 'burglary', a perfect reason to install CCTV all around the house. From there audience will be experiencing the abnormal event occur around the house.
Personally I think this film has a good mixture of joke and frightening element, and not so much on the horror part. You see, you will often get frighten by surprised loud bang here and there. Don't even expect to see a demon's footstep here in this franchise as compare to the first series. The most successful part of the movie is that it is able to keep audience to sit tight just to find out what happen next.. Of course there were scene where you will go yawning like there's no tomorrow, there were also scene that you might jump so high that you blocked the person's view sitting behind you.
Rate: 3/5