What a Saturday to crawl up early in the morning to attend a meeting, and worse part is to had a party last night till I'm so exhausted, but still somehow the meeting worth all the effort!
Before the details about this meeting is all about, you might have to know what Glitterati is?
If you are a Nuffnang member, I'm sure you are already aware of it but if otherwise fret not, here's what it is. There are basically 2 member status for each Nuffnang member, the Normal or Glitterati. The ordinary status is where once you joined you are a normal member. So how do you get upgrade to this cool Glitterati title? Simple, just promise that you serve only Nuffnang banner / ads (within Asia Pacific) on your blog.Meaning to say that you can still serve ads from Google parallel with Nuffnang and you will still be awarded with Glitterati status..
What is that?
So now what Glitterati Plus is? Well to clear off some confusion as I did earlier Glitterati Plus is not in any form a higher rank from Glitterati. It also means that you don't get more ads just because you are a Glitterati Plus. The Glitterati Plus is just merely a community to gather blogger under one hood and to reward them with.. what you call that.. with press / media 'privilege'. Example media screening, product launch, event / party, community service, and etc.. These event most of the time happen during office hour, therefore it is not a you-have-i-must-have thing. It just open you up to access to private function in a simpler word.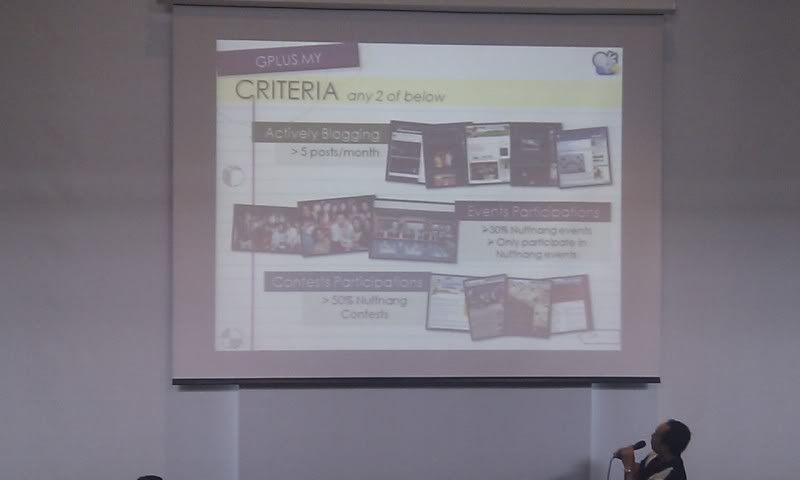 The Criteria
- Actively Blogging > more than 5 blogspot every month
- Participated in 30% of Nuffnang Events
- Participated in 50% of Nuffnang Contests
If you fulfill any 2 out of the 3 requirement, then you can apply for it
How to Apply?
For time being the application form is still under progress, but you could actually start applying via
- @GPlusMY in Twitter
- GPlusMY in facebook
- Dedicated GPlusMY page in Nuffnang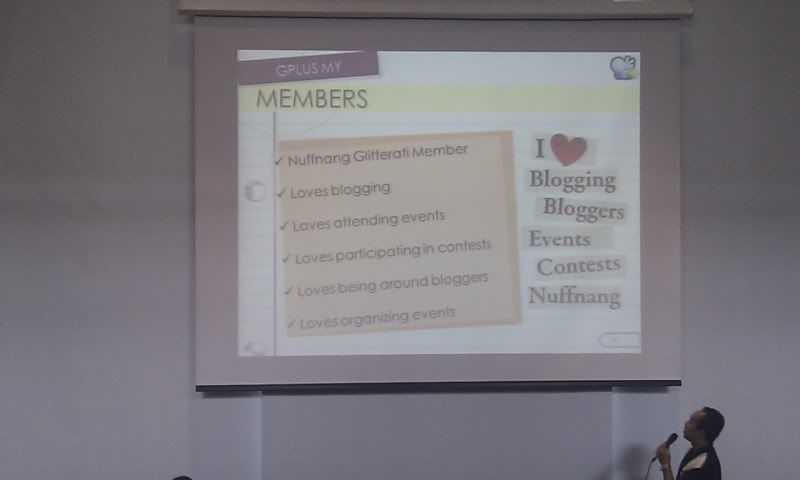 Hmm.. Should I Apply
Like I said there is no need to rush, you could take your time to think about it. Here's why you must apply
Love Blogging - Your finger speak louder than your mouth
Event / Party freak
Contest Junkie
Social around with bloggers
Treat blogger like celebrity :p
Love organizing / managing events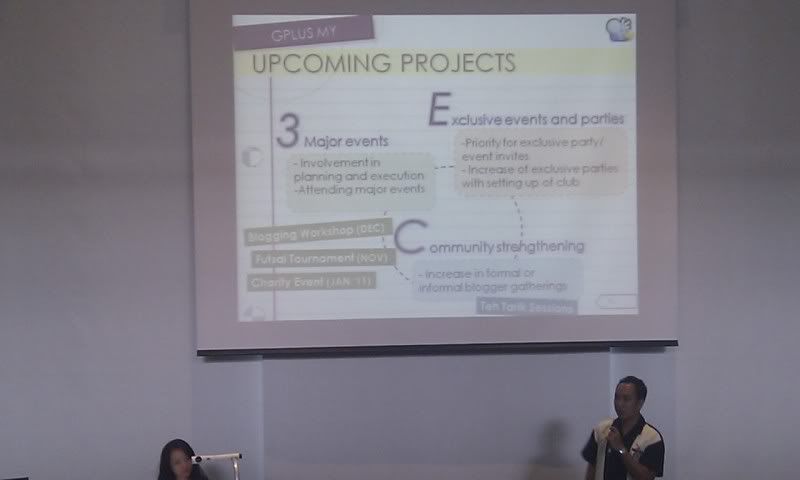 Upcoming Projects
Blogging Workshop (Dec)
Futsal (Nov)
Charity Event (Jan 2011)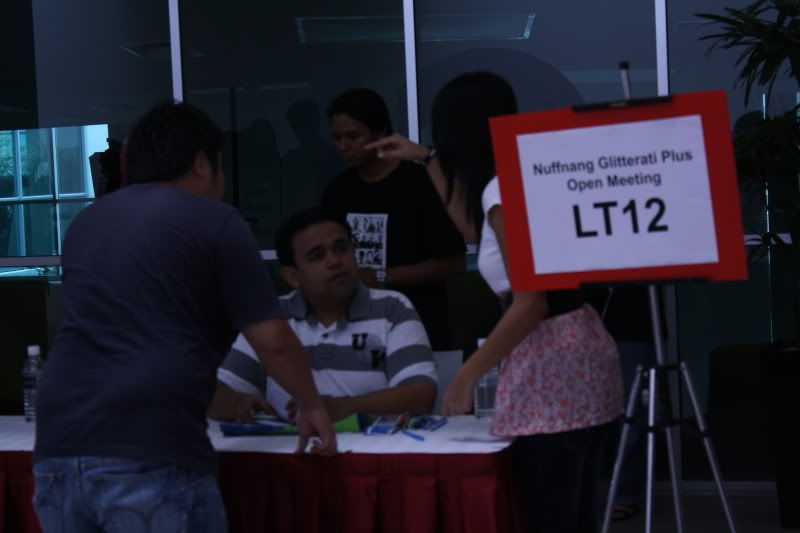 So can I apply to be Glitterati + Member?
Like I've mentioned as long as you are a Glitterati member you can apply for it effective today, this very moment while you are reading this. Since the application open on the spot, I guess pretty much everyone there applied already. But it doesn't matter if you are invited to the meeting or whether you have attended the meeting or not, you can still apply. To apply maybe you can leave them a wall post in Facebook and/or tweet em in Twitter for time being..
After the meeting there was refreshment provided and some free time to mingle around with other awesome bloggers before the tour to Taylor's Lakeside Campus..
I left earlier because I got something else somewhere else and I don't want to be stuck in the jam. However before I leave manage to look around the campus and all I have to say "Man, this campus is awesome!"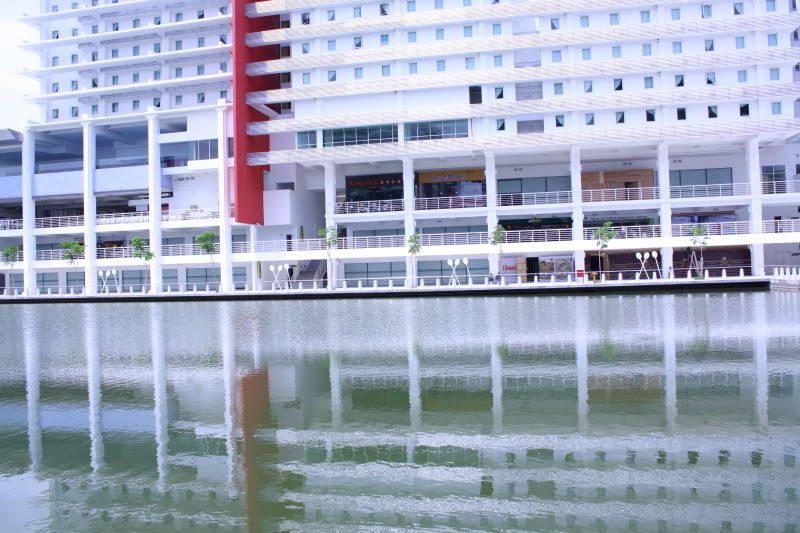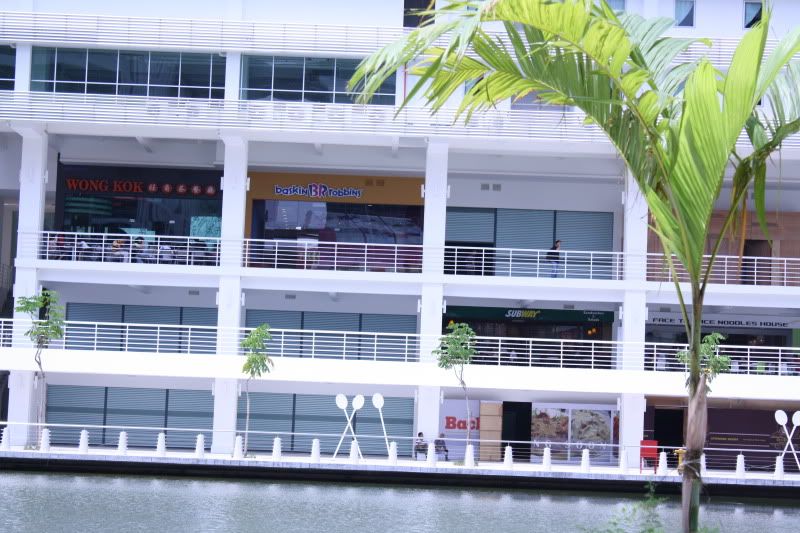 I guess the students here are quite wealthy, look at the cafe here, Wong Kok, Secret Recipe, Subway, etc..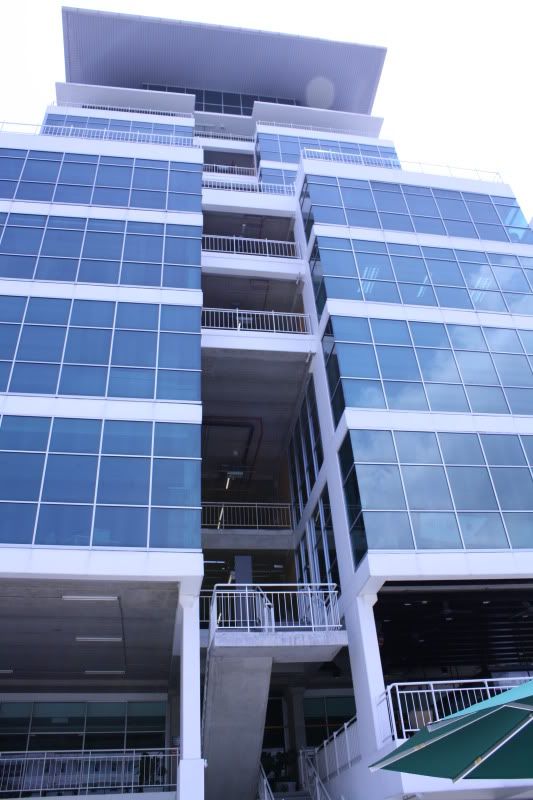 The very tall and fierce building.. While we were in the lecture hall I saw 2 dude sitting here from the hall itself.. Wonder what they were doing there.. Found out they were feeding the fish later on.. Nice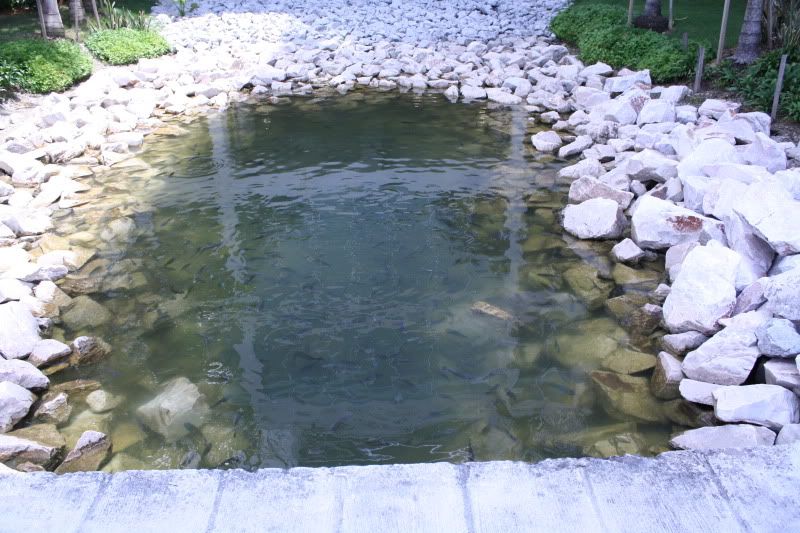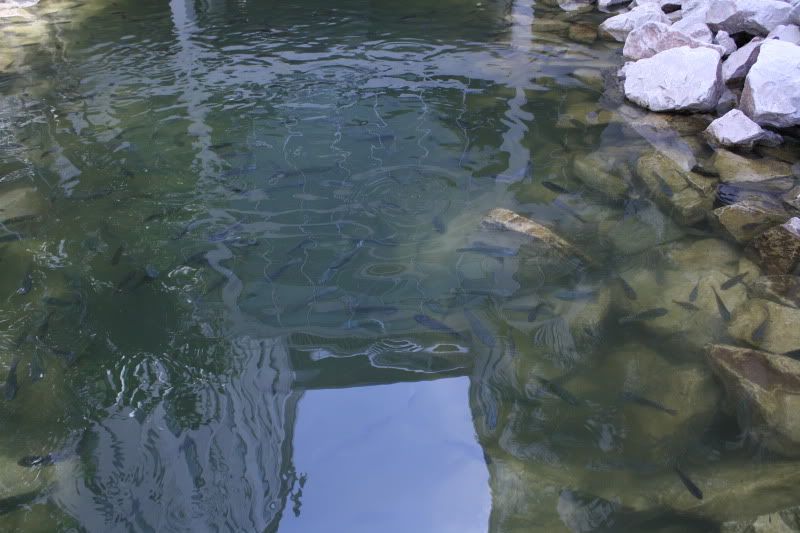 Ok that's all for now.. If you have any doubts on regard of the Glitterati + thingy do leave a comment cause I'm afraid that with a lousy memory of mine, I might have left out some important point.