Was invited to watch premier screening of this movie last night at Cathay Cineplex Damansara, and damn those xxx FM fella, told me to reach at 7pm to collect ticket but only shown up at 8.30pm..
Back to the movie [
Contain SPOILER
- You've been warned!]
Well the story as the title suggested is all about Chun Li. Telling how Chun Li is brought up and how she turned into a street fighter.
Her dad was capture by M.Bison when she was young and she witness it with her own eye. Bison is assisted by Balrog, and Vega, and plenty of armed force. When Chun Li grown up, she wanted to trace and rescue her father. She was told to leave everything behind and to look for Gen in Bangkok. When she does, Ken teaches her some martial art and the ultimate power named 'ha-do-ken'.
Mean while Nash is on a mission to track and bring down Bison and his mate. You see, the story is kinda rush and there are too many character with individual line which lead back to one common objective / location at the end of the movie.
Fight scene is pretty short and there aren't much movie from the street fighter game, even if there is, it is not nicely done.. all the enemy was detected almost instantly.
Conclusion, Capcom is good in producing game like Street Fighter IV and should keep up the good work in gaming industry. Leave the filming to someone who is long and experienced enough to get the job done.
Character that appear in the movie are:
Chun Li - Kristin Kreuk
Gen - Robin Shou
Who apparently look like
Bison - Neal McDonough
Balrog - Michael Clarke Duncan
Vega - Taboo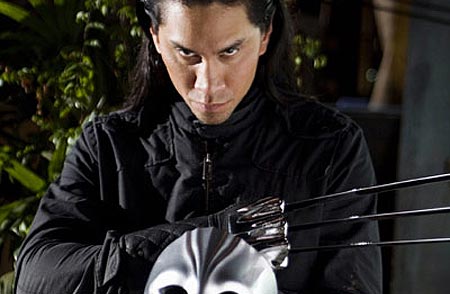 Charlie Nash - Chris Klein
By the way there is gonna be a Street Fighter IV Tournament Malaysia 2009 this weekend. All happening in Cineleisure. Every participant will be given a goodie bag and 2 movie ticket to the movie as well. Heard that chances of playing this awesomely cool game on the super mega huge screen in the cinema too o.0..
Detail below