Apart from torrent, and other p2p application, some still prefer downloading directly from file-sharing website like rapidshare, megaupload and so on.. These site often offer 2 type of account; paid and free account. If you opt to go for free account, there are plenty of restriction or waiting time for you to download files from it.. Thus making it time consuming..
I have tried using this cool piece of software I found from the net and would recommend it to anyone who prefer downloading file from file-sharing website.
FreeRapid
is a simple Java downloader that supports downloading from Rapidshare and other file-sharing services.
Simply copy and paste your links from a browser to this application. FreeRapid Downloader will handle the rest itself. No more clicking or uncomfortable waiting.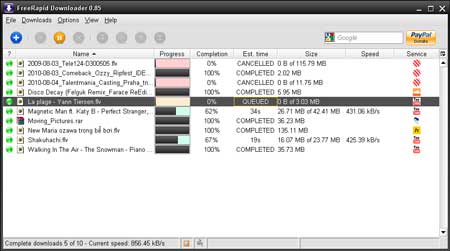 Main Features
support for concurrent downloading from multiple services
downloading using proxy list
download history
smart clipboard monitoring
automatic checking for file's existence on server
auto shutdown options
automatic plugins updates
simple CAPTCHA recognition
works on MS Windows, Linux and MacOS
easy to use
multilanguage interface - Czech, Danish, English, French, German, Hungarian, Chinese, Indonesian, Italian, Japanese, Polish, Slovak, Spanish, Ukrainian
looks amazingly
simply works!
Currently supported services are:
Rapidshare.com (+ premium account)
MegaUpload.com
Megarotic.com and Sexuploader.com
NetLoad.in
MediaFire.com
FileFactory.com
Filebase.to
Uploaded.to
DepositFiles.com
Share-online.biz
Egoshare.com
Easy-share.com
Letibit.net
XtraUpload.de
Shareator.com
Kewlshare.com
SaveFile.com
Ziddu.com
4shared.com
Load.to Iskladka.cz
HellShare.com
QuickShare.cz
Uloz.to
FlyShare.cz
Edisk.cz
Upnito.sk
CobraShare.sk
Usercash.com (crypter)
Tinyurl.com (crypter)
Linkbucks.com (crypter)
Radikal.ru (crypter)
...others are coming..
Note: Application needs at least
Sun Java 6.0
to start.
Download Here
Additional Info
I found out that searching for any file from such site are usually difficult, they are program in such way that the best and user-friendly features are made available only to paid member.
So if you would like to search for any file on any particular site just head to Google and type "[file-sharing website name] + search"
Eg: rapidshare search
With this you should be able to stumble upon those search engine which is build to aid your needs free of charge.. Enjoy